The gesture of a nine-year-old girl from a town in Tamil Nadu to part with her savings of four years meant for a bicylce, for Kerala flood relief has moved a premier cycle manufacturer, who has now promised her to gift the cycle of her dreams.
Anupriya from Villupuram in the state has decided to give away about Rs 9,000 of her savings, done over the last four years, after coming across TV visuals of the deluge in Kerala.
"I had saved money (of around Rs 9,000) for over four years to buy a cycle. But I saw visuals of Kerala flood on televisions and decided to give the money," toward relief activities, she told reporters in Villupuram.
The girl lending the helping hand won her hearts and accolades, with Hero Cyles taking special note.
Hero Cycles, in it official Twitter account, appreciated her 'gesture to support humanity' and said she would get a brand new cycle from them.
'Dear Anupriya, We appreciate your gesture to support humanity in the hour of need. You would get a brand new cycle from us. Please DM your address or contact us at customer@herocycles.com. @PankajMMunjal,' it said.
Chairman and Managing Director of Hero Motors Company, Pankaj M Munjal, hailed Anupriya as a 'noble soul' and assured to give her 'one bike every year of your life'.
'Anupriya, parnam to you. You are a noble soul and wish you spread the good around. Hero is too pleased to give you one bike every year of your life. Pl share your contact on my account. Love you and best wishes. Prayers for Kerala,' Munjal said in a tweet.
Congress MP from Kerala, Shashi Tharoor, welcomed the company's gesture.
'Thanks to HeroCycles for donating a bicycle to a 9-year-old girl who gave up all that she was saving for a cycle to help the victims of the #KeralaFloods,' he said in a tweet.
The deadly monsoon rains in Kerala have claimed 210 lives since August 8 and has displaced over 7.14 lakh people from their homes.
The Centre, various state governments and other entities including individuals have extended a helping hand to Kerala.
***
Teen ends life after rains destroy school certificates
Heartbroken on finding his Class 12 certificates destroyed in the devastation caused by the deadly monsoon in Kerala, a 19-year-old boy, committed suicide, police said on Monday.
With his house fully waterlogged in the downpour, the boy, Kailash, and his parents, hailing from Karanthur in Kozhikode district, had moved to a relief camp three days ago.
Kailash had got admission for a course in the Industrial Training Institute (ITI) and had purchased new clothes and set apart some money for higher studies, they said.
As the rains abated for a while, he returned home on Sunday to take a look at the house and was shocked to find his plus two certificates soaked in water and in tatters.
A Police officer attached to the Kunnamanagalam station said the boy's death came to light later in the day on Sunday when his parents came to clean up the house as the water receeded.
They were shocked to see him hanging, police said. His shattered father, a labourer, had pinned all his hopes on his son as all their belongings had been mostly destroyed in the rains.
In the worst affected Chengannur in Alappuzha district, a woman was wailing saying she had lost her Aadhar card, Ration card and all ID proofs.
"All my belongings, my Aadhar and Ration cards and ID proofs are all gone. Only I am alive. My relatives do not even know I exist," she mourned.
***
SC judges will contribute to flood relief fund, says CJI
The judges of the Supreme Court will contribute to the Kerala flood relief fund, Chief Justice Dipak Misra said on Monday.
A bench comprising CJI and Justices A M Khanwilkar and D Y Chandrachud made the observation during the hearing of a public interest litigation that had sought barring of lawmakers from practising in courts across the country.
"We are also making some contribution. Judges of this court are also making contribution for the flood relief fund," the bench said.
The observation came after Attorney General K K Venugopal referred to the 'grave tragedy' that has struck Kerala rendering 10 million people homeless.
The A-G had earlier donated Rs one crore to the flood relief fund.
Many other senior lawyers have also contributed significant amounts towards the relief fund.
The south Indian state is facing its worst flood in 100 years with 80 dams opened and all rivers in spate. A body blow has been dealt to the state known for its scenic natural beauty, with its infrastructure, standing crops and tourism facilities getting severely hit.
As per official records yesterday, 7,24,649 lakh people were housed in 5,645 relief camps across the state.
The deadly monsoon rains have so far claimed 210 lives since August 8.
***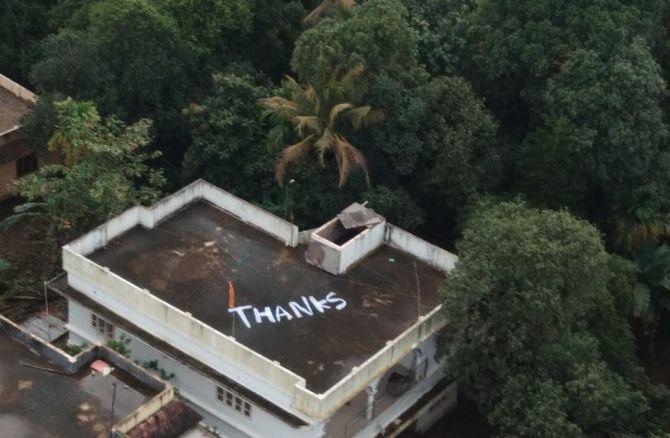 Was counting seconds: Pilot who made rooftop landing
Three seconds. That is how long it would have taken for the Seaking helicopter, which made a dramatic rooftop landing in Kerala to rescue 26 people, to disintegrate into pieces had anything gone wrong.
The daredevil pilot, while recounting the thrilling rescue operation, told PTI that the 'rooftop low hover in a light on wheels' (technical name for rooftop landing) lasted around eight minutes before the chopper took off again.
"I had to take a decision to go in for the 'light on wheels' procedure where the entire weight of the helicopter is not on the roof as it may have caved in," Lt Commander Abhijeet Garud said.
The video of the daring rescue operation by the Navy's Seaking 42B helicopter at the flood-ravaged Chalakudy town in Kerala on Friday has gone viral on social media and garnered thousands of 'hits'.
Having winched four people, lifting another 22 was a major task and the crew took a call of going for a low hover to embark all those stranded there, he said.
Asked what if something had gone wrong, the 33-year-old pilot said, "It would have taken three to four seconds for the chopper to disintegrate. It was a tough call to make. I am glad we made the right decision."
"It was a classic case of the importance of good pilot judgement, or aeronautical decision-making," he said.
Those rescued, including an 80-year-old man, were shifted along with some luggage from Chalakudy to the naval air base INS Garuda in Kochi.
"The operation was possible due to the teamwork and excellent coordination among the crew. It included Lt Cdr Rajneesh (co-pilot), Lt Satyarth (navigator), Ajit (winch operator) and Rajan (free diver)," the pilot said.
When the chopper first took off in the morning, the sortie was planned for dropping two Gemini boats with eight divers in Chalakuddy, he said.
"After dropping (the payload) we started rescuing people and distributing food and relief material. On one of the ground-plus-two storey houses we saw aged people and women waving. Prioritising them (we) proceeded for a pick up," he said.
"Many people came out thereafter. We saw almost 20 to 25 people, including a woman on wheelchair. She was unable to board the 'basket' sent for winching her up," said Lt Cdr Garud, an alumnus of the Naval Academy in Kerala.
***
Relief material starts arriving at Cochin port
Relief material from different parts of the country has started arriving at the port in Kochi to provide some succour to the people, officials said on Monday.
A Cochin Port Trust official said Naval Ship INS Deepak, carrying relief material from Mumbai, arrived with about 800 tonnes of fresh water and nearly 18 tonnes of provisions.
Fresh water is being ferried on two barges to the affected areas. Trucks carrying provisions are being rushed for distribution, he said.
The official said another consignment of relief material sent by the shipping fraternity under an initiative of the Ministry of Shipping arrived at Vallarpadam.
A vessel with 50,000 MT of crude from Mumbai has been diverted by BPCL to the Cochin port to meet the fuel demand of Kerala.
Incessant rains over the last few days have blurred the distinction between Kerala's backwaters and roads with sheets of water covering the landscape, but the state is facing shortage of potable water.
Several fuel stations in the state are also reported to have run dry.
The Cochin Port Trust has set up a relief camp for the affected people from Koonamavu and Vypeen at Sir Robert Bristow Memorial School on Willingdon Island.
Doctors from port trust hospital examined the inmates and provided them medicines.
Volunteers comprising the port staff and their family members, customs and Central Industrial Security Force are lending a helping hand at the camp.
Relief material mobilised by all major ports under the shipping ministry are being stored at Tuticorin port in Tamil Nadu and are expected to reach the Cochin port in the coming days, the official said.
The Cochin Port Trust had decided to contribute Rs 62 lakh to the Chief Minister's Relief Fund.