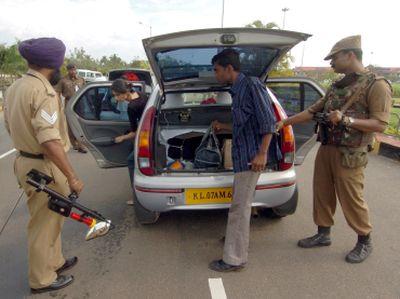 'It is still God's own country. Nobody needs to worry about coming here. Anybody can come to Kerala without worry because bad elements will be kicked out of the state mercilessly.'
'These terrorists visited many places and not only Kerala,' says Kerala Home Minister Ramesh Chennithala, reacting to the fears that Kerala has become a terror hub.
Ramesh Chennithala was the Kerala Pradesh Congress Committee president before he took over as Kerala home minister on January 1. Now 57, he was Kerala's youngest cabinet minister in the K Karunakaran ministry 30 years ago.
Chennithala, below, left, spoke exclusively to Rediff.com's Shobha Warrier about Kerala becoming a terror hub.
Narendra Modi recently told a rally in the state that from the land of tourism Kerala has become a nursery of terrorism.
He has a reputation of saying such things. Ours is 'God's own country' and not a nursery of terrorism. Ours is the state where even a mother disowns her own son if he is found guilty.
If you remember, a mother disowned her son after he was captured in Kashmir suspected of being a terrorist. It is not an easy thing for a mother to do.
Every society has bad elements and we are taking efforts to correct any wrong. More than that, our society is totally against terrorism and terrorists.
But the perception is that many terrorists have lived in Kerala without any problem.
That is a wrong perception. Kerala will never tolerate anyone who is anti-national.
Two Mujahideen terrorists, Waqar Ahmed and Tehsin Akhtar, had camped in Munnar for many days. You said the Kerala police was aware of their presence. Why were they not arrested then?
We came to know about them only after they left. What I said was the Kerala police was unaware of their presence in Munnar. If we were aware, why would we not arrest them?
It was also reported that the information about them was not shared with the central intelligence agencies. Why?
I cannot reveal what transpired between the two intelligence agencies. We are very carefully following this issue and we are also very careful about what we reveal to the outside world. It is not proper on my part to reveal what transpired between the agencies.
Tehsin, when questioned, said the Indian Mujahideen enjoyed a certain degree of political patronage...
That is also not true. No political party in Kerala will help harbour any terrorist in this state.
We do not have any evidence that political parties of Kerala support terrorists or terrorism. I can confidently say that there is no political backing.
There are such elements in every society and not in Kerala alone. The state is being given a bad name unnecessarily.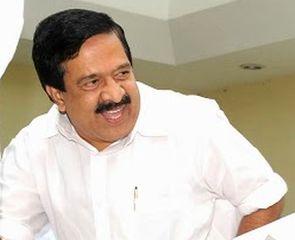 As Kerala's home minister, were you shocked or worried about this revelation?
I am not worried or shocked. A home minister cannot afford to do so. I would say the entire world is worried about terrorism.
Let me ask you: Were there any terrorist attacks in Kerala? The truth is we have had not a single terrorist attack.
But terrorists camp here to attack other places... and the image of Kerala is that of a soft state.
It is not true. We are not a soft state. The image of Kerala is still the same; it is still 'God's own country' and it will remain so. Nobody needs to worry about coming here.
Anybody can come to Kerala without worry because bad elements will be kicked out of the state mercilessly.
These terrorists visited many places and not only Kerala. You know very well that Munnar is a tourist destination and it borders with Tamil Nadu.
Kerala is not a soft state or a state that harbours terrorists. We are very firm with terrorists. We are alert. We have taken all precautions to prevent terrorists from setting foot in Kerala.
What kind of precautions?
I am sorry. I cannot reveal the details.
It was also alleged that Nasir (a suspected Lashkar-e-Tayiba operative) was protected by Madani (Muslim leader Abdul Nasser Madani).
We have no evidence on that.
Let me ask you about another burning issue. According to a survey conducted recently, Kerala is found to be the most unsafe place for women. As the home minister of the state, how do you react to this?
This too is not correct information. What happens is here people register cases while in the northern part of India, people do not.
Kerala is not an unsafe place at all. It is no different from any other state in India. What has appeared is false propaganda.
We plan to start 9 more police stations run only by women. We also plan to increase the number of women police personnel to more than 5,000.
In another two years, the number will go up to 10,000.
The truth is women feel unsafe on Kerala roads after dark.
I don't think it is true. If you say it is so, it is only because this is a conservative society.
Unlike in Mumbai, women don't go out alone in Kerala.
With more and more women working outside, it is not possible for women not to have such restrictions. Is it not the responsibility of the state to give protection to women?
The conservative nature of Kerala is changing slowly. We are also trying to make the state more safe for women.
As part of our initiative we started the programme, Nirbhaya Keralam, Surakshitha Keralam. It was the first of its kind in the country and was inaugurated by Sonia Gandhi. The pilot programme will start in Ernakulam.
Image: Policemen search a car at a checkpoint outside the international airport in Kerala. Photograph: Dipak/Reuters