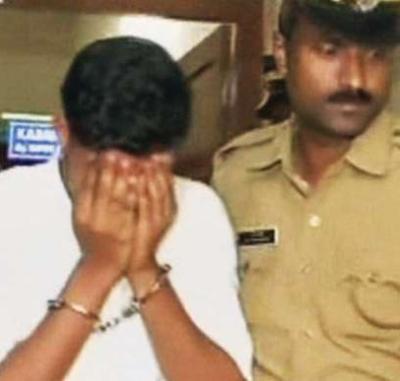 The main suspect in the abduction and assault of a noted Malayalam actress and his accomplice were remanded in 14-day judicial custody by a magistrate court at nearby Aluva on Friday.
The police moved a plea seeking custody of the accused 'Pulsar' Suni and V P Vijeesh when they were produced before the residence of the magistrate this afternoon.
The court is expected to consider the police application on Saturday, even as two were sent to the district jail at nearby Kakkanad.
Emerging from the court, 'Pulsar' Suni replied in negative when asked by mediapersons if he was being 'trapped' and said he would get back to the media once his custody period was over.
Prior to the court proceedings, Kerala Additional Director General of Police (ADGP) B Sandhya said the police would seek custody of the arrested suspects for detailed interrogation after conflicting details emerged from their initial quizzing on the matter.
Earlier, the duo was questioned by top police officials at Aluva Police Club and was taken through the route they had travelled with the actress in a car after abducting her on February 17.
On the information provided by the duo, the police also conducted searches for the mobile phone they allegedly used to click photographs of the actress in the car.
Police carried out searches in a drainage after they were informed by the two that they had dumped the phone in it.
However, nothing could be traced, police said.
On Thursday, high drama unfolded as the police forcefully took the duo into custody which had entered the court complex wearing helmets to surrender, six days after the incident which caused a nationwide outrage.
Meanwhile, Kerala Chief Minister Pinarayi Vijayan hit out at those trying to speculate to create 'imaginary accused' in the case and said 'police will not go after such shadows'.
In a related development, actor-director Lal to whose house the actress reached first after the abuse, dismissed reports that she was abducted while she was travelling to Kochi for the dubbing of her latest movie.
She was abducted and harassed while on her way to the home of her friend and film actress Remya Nambeesan, he claimed.
Lal also claimed it was he and his driver who caught Martin, one of the key accused, after he dropped the actress at his house on the night of February 17.
The actress, who has starred in Tamil and Telugu films, was abducted and allegedly molested inside her car for two hours by the accused, who had forced their way into the vehicle on the night of February 17 and later escaped in a busy area in Kochi.