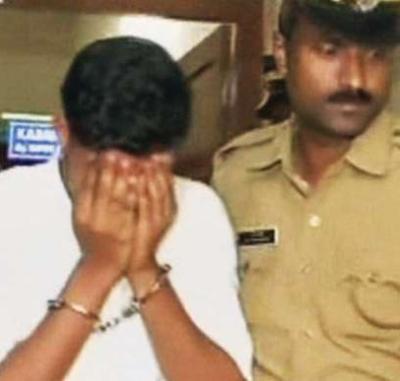 Nearly a week after the molestation incident involving a popular Malayalam actress, Kerala Police on Thursday arrested the prime accused 'Pulsar' Suni and his accomplice V P Vigeesh as they entered a court complex to surrender in a local court in Kochi.
The court premises witnessed high drama as the police forcefully took the duo into custody from the court complex.
"We have taken them into custody. We had deployed our men in the city. They managed to get them," Inspector General of Ernakulam Range, P Vijayan said.
The actress, who has also starred in Tamil and Telugu films, was abducted and allegedly molested inside her car for two hours by the accused, who had forced their way into the vehicle on the night of February 17 and later escaped in a busy area in Kochi.
Visuals aired by news channels showed the duo being forcefully taken into custody by police as they entered the Ernakulam Additional Chief Judicial Magistrate court located in the court complex to surrender at around 1.10 pm at lunch break.
The duo managed to give a slip to the police and entered the court complex wearing helmets.
Suni, who reached near the court premises along with Vigeesh allegedly on a 'pulsar' bike, entered the court complex dressed as a lawyer.
When the advocates who recognised them alerted the police the duo allegedly entered into the court hall.
Their lawyers charged the police with forcefully taking their clients into custody from the court room itself.
The lawyers also made a vain bid to prevent police from taking them into custody.
The duo was later taken to Aluva police club for questioning.
Charging the police with forcefully taking their clients into custody from the court room itself during lunch break, the lawyers, later, petitioned the additional chief judicial magistrate.
The court rejected the petition seeking to produce the accused back to the ACJM court itself, observing that no such crime is pending before the Court.
"Since no crime is pending against them before this court a direction to produce back them is unnecessary," the Court ruled and directed the Sub-Inspector, Central Police station, Kochi, to hand over the accused to investigating officer probing the case.
The ACJM court also ordered to produce them before the court having jurisdiction.
Kerala Chief Minister Pinarayi Vijayan praised the police for taking into custody the prime accused.
Vijayan, whose government had been facing flak over the delay in nabbing the accused, said, "I congratulate the police. It is a commendable achievement."
Leader of Opposition in Kerala assembly Ramesh Chennithala criticised the manner in which the accused were taken into custody from the courtroom.
"There has been lapse on the part of police and this should not happen in further investigation of the case," the Congress leader, who was home minister in the previous Oommen Chandy government, said.