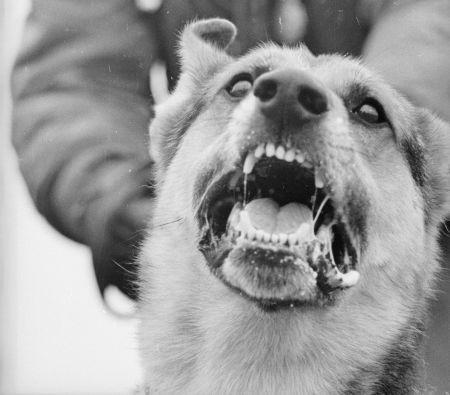 The stray dog menace in Kerala continues unabated with a 65-year-old woman being mauled to death by a large pack on a suburban beach at nearby Kanjiramkulam in the state capital.
The hapless woman, Siluvamma, a resident of the coastal belt, was attacked by a large number of stray dogs at Pulluvila beach, according to her family.
She suffered dog bites all over her body and succumbed to injuries while on her way to hospital.
The dogs also attacked the local people who tried to rescue the woman by chasing them away.
Siluvamma's son Selvan, who was also attacked by the dogs while trying to rescue his mother, escaped by jumping into the sea.
"My mother went to the beach in the night. As she did not return, I went out searching for her. What I saw was shocking. She was being attacked by over 100 stray dogs. She was bleeding all over the body," Selvan told reporters later.
Maximum dog bite cases:
>> Thiruvananthapuram -- 5,948
>> Palakkad -- 4,916
>> Kollam -- 3,670
>> Pathanamthitta -- 2,892
>> Alappuzha – 2,967
>> Ernakulam – 2,050
>> Thrissur – 2,044
>> Kottayam – 1,614
Meanwhile, in a separate incident, another native of Pulluvila, Daisy, was also attacked and severely injured by stray dogs on Friday night.
The 52-year-old woman said she was attacked by a pack of dogs when she went out of the house around 11.30 pm.
She was rushed to the government medical college and given a shot of anti-rabies vaccination
Medical college hospital sources said though she had injuries on her hands and legs, her condition was stable. She was shifted to Pulluvila primary healthcare centre for further treatment in the morning, they added.
Stray dogs have been posing a great threat to people, especially women, children and the elderly in coastal stretches in Kerala, including Pulluvila, for some time.
The issue has been a point of debate in Kerala for the last few years after increase in incidents of stray dog attacks and was also raised in the assembly earlier this year.
According to a report submitted in the Supreme Court recently in a connected case, more than one lakh people in Kerala have been bitten by dogs in 2015-16.
The report was submitted by a committee appointed by the apex court to look into the aspect of treatment of people bitten by stray dogs and claims of compensation in the state.
The report also said Kerala is estimated to have stray dog population of 2.5 lakh, which feed lavishly on the waste and garbage dumps across cities and towns.
Photograph is used for representative purposes only
Photograph: Getty Images