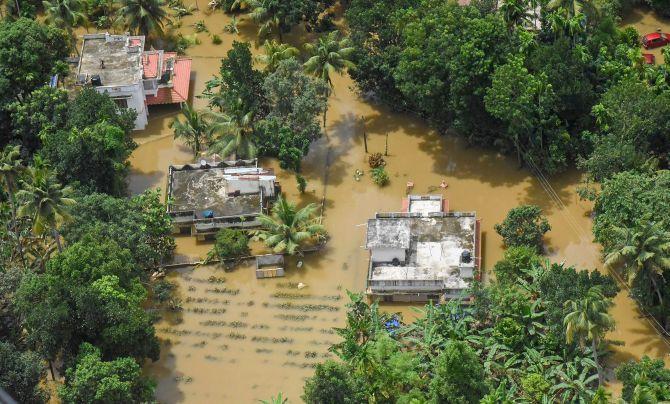 Rescue and relief operations are continuing in full swing with the thousands of personnel of the Indian Navy, Air Force, Army, National Disaster Response Force and Central Armed Police Forces are engaged in the rescue, relief and evacuation operations in Kerala with the support of dozens of helicopters, aircraft, hundreds of motorboats, an official spokesperson said.
The operations will continue till the situation becomes normal.
So far, they have rescued and evacuated more than 38,000 people from the flood-affected areas. Medical aid has been provided to more than 23,000 people. As many as 3,00,000 food packets have been supplied by the Food Processing Ministry.
The deadly monsoon rains claimed 13 more lives on Sunday, taking the toll to 210 in the last ten days as Chief Minister Pinarayi Vijayan said.
The NDRF said on Sunday that it has evacuated more than 15,000 people from floods and heavy rains affected areas of Kerala till now and rescue operations have been stepped up in a number of badly-affected locations, the National Disaster Response Force said on Sunday.
The rainfall intensity over Kerala has decreased over the past two days, the meteorology department said on Sunday, adding that there is no alert of heavy precipitation for the next four days in the state.
Many are still stranded in their homes with no food and sheaths of water around them at various places in Alapuzha, Thrissur and Ernakulam districts.
The maximum death toll has been reported from Idukki district, where 43 people have lost their lives so far, as per official estimates. 28 deaths were reported in Malappuram and 27 in Thrissur.
The NDRF said a total of 58 teams, with about 30-35 personnel in each team, are 'working in difficult conditions and terrain to deal with the worst flood in over a century' in the southern state.
"Though the condition is improving in some places as water has started receding, NDRF has scaled up its response in places which are still affected like Thiruvalla and Chengannur (Alappuzha), Aleva (Ernakulum) and parts of Idukki," a force spokesperson said.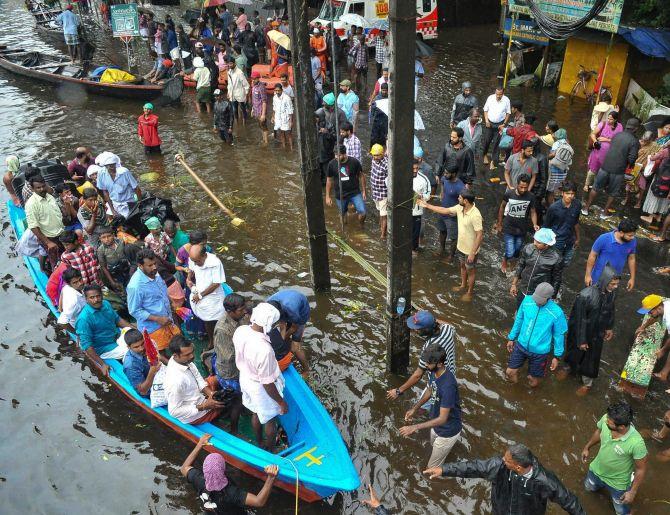 By the eleventh day of the disaster, NDRF Force teams have rescued 348 people and 50 animals, he said. The spokesperson said the force has evacuated more than 15,000 people.
"Medical assistance has been provided to 3,197 needy persons till now," he said.
Meanwhile, India Meteorological Department's Additional Director General Mritunjay Mohapatra said, Saturday the state recorded 9 cm of rainfall.
On August 16 and 17, the state recorded 19 cm and 11 cm of rainfall respectively, he said.
"Over the past three days, we have seen a gradual decrease in rainfall in the state," Mohapatra said.
The IMD said it is expecting 'heavy rainfall' only in Kozhikode, Kannur and Idduki districts.
Mohapatra said, "There is no red or amber colour code warning for any district today. For tomorrow, the colour warning is green."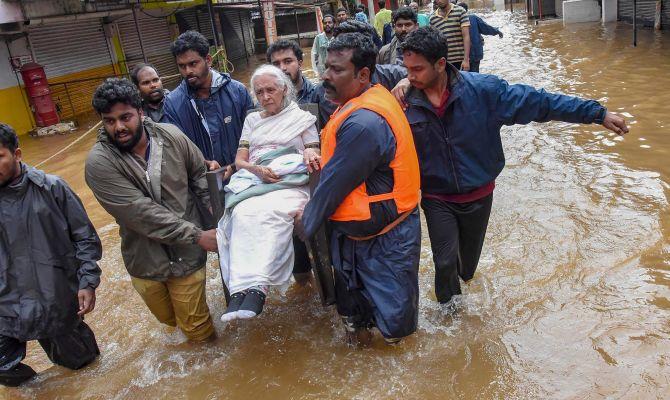 The IMD has four colour codes to signify the intensity of weather. Red means authorities need to take action and one could expect extreme weather conditions, amber means government agencies need to be prepared to handle exigencies.
Yellow colour code means situation needs to be watched while green signals the weather would be normal.
The IMD said rainfall recorded by the state was 2,346.6 cm, against the normal precipitation of 1,649.5 cm.
Idukki district has recorded 92 per cent above normal rainfall while Palakkad recorded 72 per cent more rain than normal.
"This is a second birth for us. We did not have any food for the last four days and there was neck deep water all around," said a woman survivor in a relief camp at Ranni in Pathanamthitta district.
A woman at Aranmula near Alapuzha said they had not had any food or water for two days. Many people are still stranded as they prefer to be in their homes.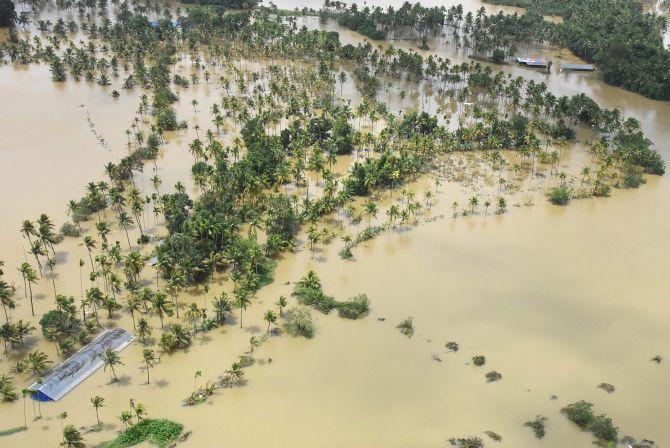 At Paravur in Ernakulam district, six persons are said to have been killed as a portion of a church collapsed on Wednesday night.
At least 600 are stranded in the church and no help has come from any quarter so far, an angry survivor in chest deep water told a television channel.
"There is no food or drinking water... no one has so far come to help us."
However, there is no official confirmation about the deaths of the six persons in the church so far.
Agriculture minister V S Sunil Kumar said at least 42 villages in Kole wetlands in Thrissur were inundated after the Karivannur river changed its course following breach of a bund road.
Over 2 lakh people in Thrissur district are in relief camps, he said.
In some relief, Kochi Naval airport will start operating commercial flights from on Monday. This was due to closure of the Kochi International airport till August 26 following flooding of the runway and airport areas in the heavy rains.
The railways have cancelled at least 18 trains, partially cancelled nine and diverted today's Kanyakumari-Mumbai CST express train via Nagercoil, Tirunelveli, Madurai, Dindigul and Erode.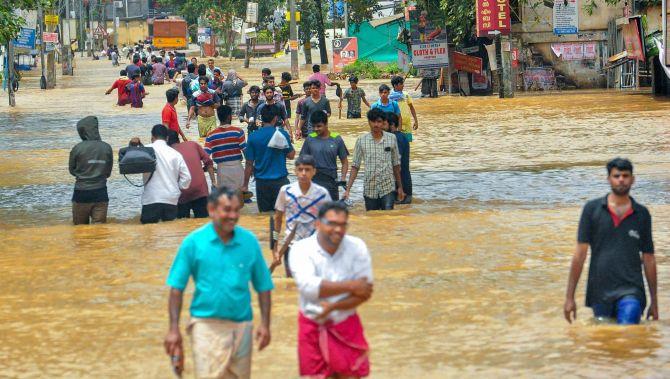 With several stretches across the state being destroyed, the services of the Kerala State Transport Corporation and private buses has also been affected.
Along with personnel of the Army, Navy, Air Force, Coast Guard and the NDRF, hundreds of fishermen and local people are engaged in relief operations.
A young officer safely winched to safety a baby from a building marooned by flood waters yesterday, while at another place girl students from a hostel were rescued in a similar manner.
A 24-year-old man, who rescued his mother and siblings after their home was fully flooded, lost his life as he tripped and fell into the fast flowing waters while helping his aged father.
His body was recovered yesterday. His father, who held on to a fallen tree branch, was saved from the flood water.
Prime Minister Narendra Modi had undertaken an aerial survey of some of the flood affected regions yesterday and reviewed the situation.
The Centre had sanctioned Rs 500 crore as immediate assistance to the state.
The National Crisis Management Committee (NCMC) on Sunday directed the central ministries to focus on providing essential commodities and medicine and restoration of vital services in Kerala.
The NCMC, headed by Cabinet Secretary P K Sinha, in its review meeting directed that focus should now be on provision of emergency supplies of food, water, medicines and restoration of essential services such as power, fuel, telecom and transport links as flood water recedes in Kerala.
The Department of Food and Public Distribution has made available 50,000 metric tonnes of food grains (rice and wheat) to meet the immediate requirements with additional quantities in the pipeline, an official spokesperson said.
The Department of Consumer Affairs has made arrangements to airlift 100 metric tonnes of pulses by Monday with additional quantities to be sent by train.'
The Petroleum and Natural Gas Ministry has made available 9,300 kilolitres of kerosene to Kerala. Additional 12,000 kilolitres of kerosene will be allocated. LPG bottling plant in Kochi has been reopened.
The Ministry of Health and Family Welfare is airlifting 60 tonnes of emergency medicines on Monday. It has put six specialised medical teams on standby.
The Railways will provide blankets and bedsheets to meet the immediate requirements of the state government.
The Air India has offered to airlift relief material without any cost.
The NCMC, which met for the fourth consecutive day, reviewed the rescue and relief operations among the armed forces, NDRF, Ministry of Home Affairs and other central ministries and the Kerala government.
The Railways are running two special trains on Monday to Kolkata from Thiruvananthapuram and Ernakulam to ensure travel of stranded people.
Train services are expected to be restored on all lines by Monday evening.
A special train with 14,00,000 litres of water and a Navy ship with 8,00,000 litres of water will reach Kerala by on Monday.
Commercial flights will start operating from Kochi naval base from Monday and all logistic arrangements for this have been put in place.
The regular NCMC meetings are taking place following the directions of Prime Minister Narendra Modi, who made an aerial survey of the floods affected areas on Saturday.