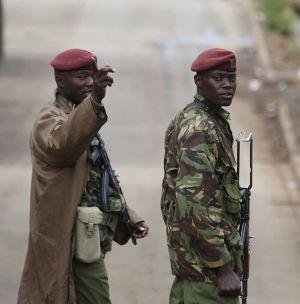 Kenyan authorities are questioning a British national arrested at Nairobi airport as he tried to board a Turkish Airlines soon after an upmarket mall was besieged by militants in that country's capital.
The arrest on Monday came as police investigated whether some of the terrorists could have escaped from the mall by disguising themselves in clothes belonging to hostages.
A UK Foreign Office spokesperson said it was aware of the arrest of the 35-year-old man, believed to be of Somali origin, and was providing consular assistance.
According to media reports in London, the Briton is believed to have aroused suspicion as he passed through Jomo Kenyatta airport because of bruises to his face.
The arrest comes as Kenya's four-day hostage crisis ended on Tuesday night, with suspicion growing that Briton Samantha Lewthwaite was one of the terrorists who massacred at least 67 people.
However, Al Qaeda-linked Somali terrorist group Al Shabaab, which claimed responsibility for the attack, said only men were involved in the assault on Westgate mall.
At least six Britons, including a young girl, are among those killed, including a British Indian artistic director's relatives.
Samir Bhamra, who runs a dance organisation in Leicester and has worked with the Royal Shakespeare Company, said the young family members had been taking part in a recording of a television programme called 'Superchef Junior' on the roof of the shopping mall when gunmen stormed the building.
His aunt remains in critical condition.
British businessman Louis Bawa, the father of eight-year-old Jennah who died, learned of his daughter and Kenyan-born wife Zahira's death earlier this week.
Two of the other victims, British-Australian architect Ross Langdon and his Dutch wife Elif Yavuz, were expecting their first baby in two weeks.
Three floors of the mall have collapsed because of a fire apparently started by the terrorists, with an unknown number of bodies trapped in the rubble.
The attack finally ended with five militants killed and 11 others in custody, Kenyan president Uhuru Kenyatta announced in a televised address.
He said forensic teams were moving to establish the identities of the terrorists and confirmed intelligence reports had been received suggesting that a British woman and a number of American nationals had been involved.
Image: A Kenyan soldier gestures near Westgate shopping centre in Nairobi
Photographs: Goran Tomasevic/Reuters