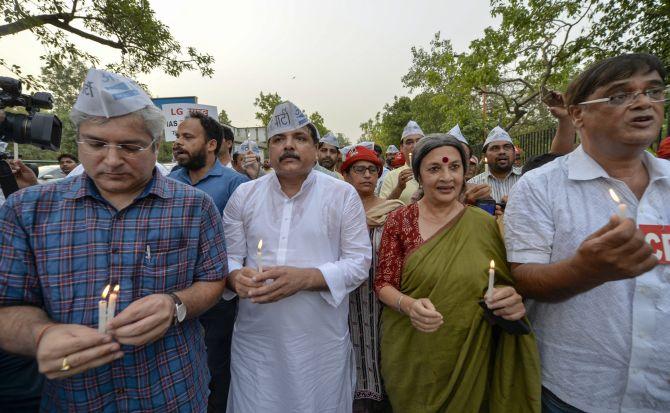 IMAGE: AAP MP Sanjay Singh and party MLAs along with CPI-M leader Brinda Karat participate in a candlelight vigil to protest against Delhi Lieutenant Governor Anil Baijal, at Rajghat in New Delhi, on Thursday. Photograph: Manvender Vashist/Reuters
The tug of war between the Lieutenant Governor and the Aam Aadmi Party government showed no signs of easing as Chief Minister Arvind Kejriwal and his cabinet colleagues on Friday continued their sit-in at the L-G office for the fifth day, amid intensified protests by the party and the Bharatiya Janata Party which blamed each other for the impasse.
Kejriwal, who along with his three cabinet colleagues have been staging a sit-in at the L-G office since Monday evening, wrote a second letter to Prime Minister Narendra Modi in as many days on the issue of alleged 'strike' by Indian Administrative Service officers and challenged him to work without the officers attending his meetings.
'How do we work like this? Can Modi ji try working like this even for a day? Can our critics kindly tell us how do we function like this(sic)?' Kejriwal tweeted after Delhi Environment Minister Imran Hussain alleged that environment secretary did not attend a meeting on pollution in the evening.
In his fresh letter to Modi, Kejriwal urged him to end IAS officers' strike so that he can attend a meeting of NITI Aayog on Sunday.
Kejriwal accompanied by his deputy Manish Sisodia and ministers Satyendar Jain and Gopal Rai started an indefinite sit-in at the office of Lt Governor Anil Baijal demanding that he direct IAS officers to end their 'strike' and approve doorstep ration delivery scheme.
However, the IAS officers' association has maintained that no officer is on 'strike'.
A team of 20 doctors reached the Lt Governor Secretariat this morning to conduct health check up of Jain and Sisodia, who have been on hunger strike on Tuesday and Wednesday respectively, after which Kejriwal expressed apprehension that the two ministers may be forced out of there.
'Why r they planning to take them forcefully? It is just 4 days. Both of them r fit. They r fighting for the people of Delhi (sic),' Kejriwal tweeted.
Also, Sisodia released a video warning that if they are forcibly removed from the L-G Secretariat, they will stop drinking water too.
Sources said that the L-G, who has been working from his residence after the sit-in by AAP ministers, has constituted three teams of doctors to examine the health of ministers.
"A regular team, consisting of a doctor, a nurse and and a helper, has been visiting to check on the health of the ministers. This afternoon a team of specialists visited them," an official said.
A specialist team consists of a cardiologist, nephrologist, endocrinologist and the medical head of LNJP Hospital, he said.
"At 2:30 pm, his (Jain's) vitals were checked and his sugar level was 57 units (mg/dL). His blood pressure reading was 98/64, while the pulse reading was 68," sources said.
AAP Rajya Sabha MP Sanjay Singh on Friday met the Union Home Minister Rajnath Singh and voiced hope that the L-G will find a 'meaningful' solution in the interest of the Delhi people.
In a symbolic protest, the AAP leaders from 70 assembly constituencies sent ration packets to the prime minister residence. The AAP government has alleged that approval to the doorstep ration delivery scheme was pending with the L-G.
The BJP legislators sitting on a dharna at Chief Minister Arvind Kejriwal's office at the Delhi Secretariat on Friday launched a hunger strike 'to pressure the government in providing relief to the people hit by water shortage'.
The Delhi unit BJP leaders - Vijender Gupta, Manjinder Singh Sirsa, Jagdish Pradhan and Parvesh Verma - and rebel Aam Aadmi Party MLA Kapil Mishra also wrote to President Ram Nath Kovind, seeking his intervention to end the sit-in of Kejriwal and his cabinet colleagues at Lieutenant Governor Anil Baijal's office.
Hitting out at Kejriwal, Congress leader Sheila Dikshit said that he should first read the Constitution and then approach the prime minister and Parliament for full statehood to Delhi.
Dikshit said the roles of the Delhi Lt Governor and the chief minister are defined in the Constitution and wondered why AAP leaders were protesting at Lt Governor Anil Baijal's office since Monday. "What is his (Kejriwal's) intention behind it?" she asked.
Delhi Pradesh Congress Committee chief Ajay Maken said the AAP and the BJP are doing 'dharna politics' as they are 'not serious' about public issues such as water shortage.\
"The dharna by both the parties is a part of well-planned strategy. The script of this strategy had been written when the chief secretary was assaulted at the CM's residence... AAP is doing dharna to divert attention from its failure on public issues," Maken told reporters at the same press conference.
Meanwhile, the Delhi High Court today agreed to hear on June 18 a plea seeking direction to the L-G to ensure that the alleged 'informal strike' by IAS officers of Delhi was called off and they perform their duties as public servants.
The petition comes in the backdrop of another plea filed yesterday in the court seeking that the sit-in by Kejriwal and his cabinet colleagues at the LG office against the "strike" by the IAS officers be declared unconstitutional and illegal. This plea against Kejriwal's sit-in was also listed for hearing for June 18.