As part of a nationwide tour to garner support for his fight against the Centre's ordinance on control of services in Delhi, Chief Minister Arvind Kejriwal will be meeting his West Bengal counterpart Mamata Banerjee in Kolkata on Tuesday afternoon, an official said.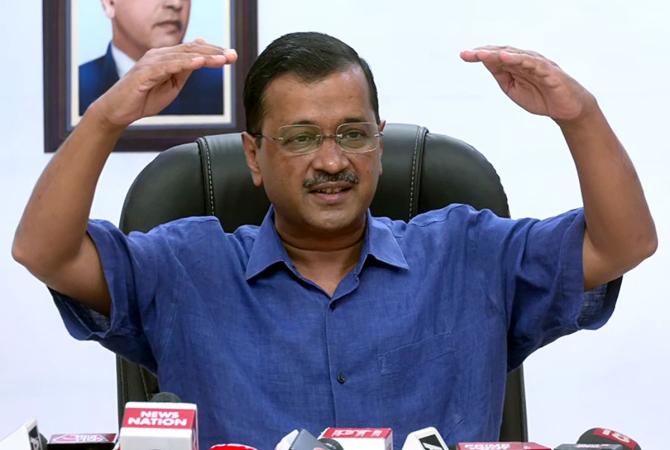 Kejriwal, who will be accompanied by Punjab Chief Minister Bhagwant Mann, is taking on the central ordinance setting up a National Capital Civil Service Authority which essentially overturns a Supreme Court order last week giving control of services, excluding those related to police, public order and land, to the elected government in Delhi.
"Today, I am starting my journey around the country for the rights of the people of Delhi. The Supreme Court had passed a judgement giving justice to the people of Delhi. The Centre snatched away those rights by bringing the ordinance," Kejriwal said.
"When this comes in the Rajya Sabha, it has to be ensured that it not passed. I will meet the leaders of all political parties and ask for support," he added.
The National Capital Civil Service Authority, where the chief minister will be the sole representative of the elected government, will handle the transfer of IAS and DANICS cadre officers and also matters of disciplinary proceedings against them.
The AAP has announced that it will hold a 'maha rally' at Ramlila Maidan in Delhi on June 11 against the 'black ordinance'.
It has already sought support of all non-BJP parties on the issue saying this is a 'time for 'agni pariksha' (trial by fire)' for opposition parties, and that they should come together if they want to save the country's democracy and Constitution.
Kejriwal and Mann, who are flying in to Netaji Subhas Chandra Bose International Airport, will first hold a brief meeting with Aam Aadmi Party's West Bengal leadership before visiting the state secretariat Nabanna to meet the Trinamool Congress chief.
AAP's Bengal unit will also brief the media ahead of the scheduled meeting of chief ministers.
"They (chief ministers) are scheduled to have a closed-door meeting at the state secretariat. They may also hold a discussion on probable strategies for next year's general elections," a senior Trinamool Congress leader said.
Mann, while speaking to reporters after flagging off 98 emergency response vehicles for Punjab Police in Chandigarh, hit out at the Union government for bringing a 'tanashahi' (dictatorial) ordinance and accused it of allegedly interfering in the rights of states.
He said the AAP will travel throughout the country to seek support from political parties on the matter.
"Today, we are going to (West) Bengal and tomorrow we will visit Maharashtra," Mann said, adding they are seeking support from the parties to stall the ordinance in the upper house of parliament.
Both Kejriwal and Mann will leave Kolkata on Tuesday evening.
Kejriwal has earlier met Bihar Chief Minister Nitish Kumar over the ordinance issue and the latter has extended full support to AAP in its tussle with the Centre on the matter.
The AAP chief is also likely to meet Shiv Sena (UBT) leader Uddhav Thackeray and NCP leader Sharad Pawar on Wednesday in Mumbai.
The central ordinance has to be ratified by Parliament within six months. For which, the Centre will have to bring a bill for its passage in both Houses of Parliament.