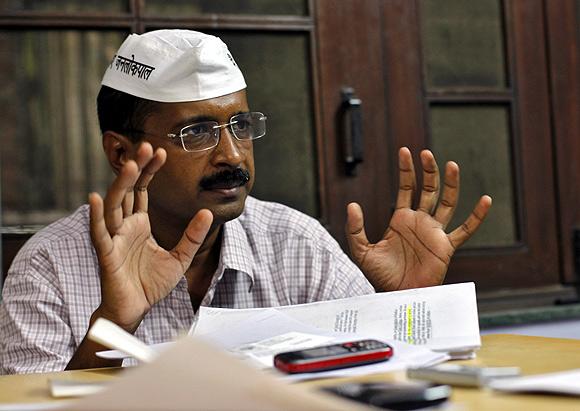 Delhi Chief Minister Arvind Kejriwal will address an Aam Aadmy Party rally against the land Bill at Jantar Mantar and might also lead a march to Parliament on April 22.
"It has been decided that he will address the rally and might also lead a march to Parliament with other senior party leaders. The finer details are still being worked out," a party spokesman said on Friday.
In a resolution passed by the party's National Council on March 28, the party had decided to hold a march against the Bill and had formed a committee in this regard.
The committee comprises senior party leaders Ilyas Azmi, Prem Singh Pahadi, Yogesh Dahiya, Somendra Dhaka, Gurnam Singh and Kiran Vissa who are working out the details of the agitation programme.
The Union government has decided to recommend re-promulgation of the land acquisition ordinance incorporating nine amendments that were part of the Bill that was passed in Lok Sabha last month.
The pending legislation, entitled the Right to Fair Compensation and Transparency in Land Acquisition, Rehabilitation and Resettlement (Amendment) Bill, seeks to replace the ordinance that was promulgated in December.
The Ordinance should have been cleared by Parliament before April 5 if it was to subsist. But the government hit a hurdle in Rajya Sabha, where it could not get the Bill cleared for replacing the Ordinance.
© Copyright 2021 PTI. All rights reserved. Republication or redistribution of PTI content, including by framing or similar means, is expressly prohibited without the prior written consent.