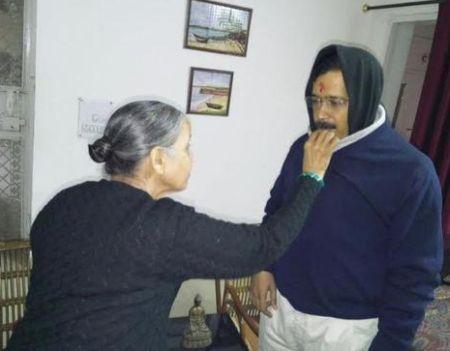 AAP chief Arvind Kejriwal meets his mother and seeks her blessings before he files his nomination for the upcoming polls. Photograph: ANI/Twitter
Aam Aadmi Party chief Arvind Kejriwal is all set to file his nomination in the capital for the upcoming Delhi Assembly elections in Delhi on Tuesday.
Earlier on Saturday, the Election Commission had sent a notice to Kejriwal for violating the Model Code of Conduct during a press conference where he launched an attack on the BJP and its Delhi unit chief, Satish Upadhyay.
The former Delhi chief minister had levelled graft allegations against Upadhyay, and had also accused the BJP of attempting to incite communal violence in Delhi.
The ECI has asked Kejriwal to respond to its notice by 3 pm on January 20 or face action for the violation of the Model Code of Conduct.
It said that if there was no response by January 20, it would take a decision without any further reference Kejriwal.