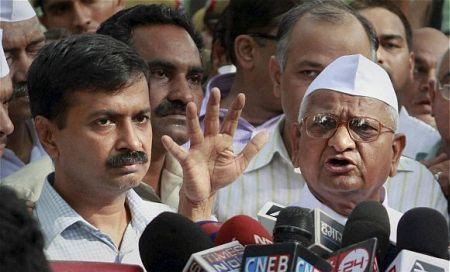 Aam Aadmi Party convener Arvind Kejriwal will go to Ralegan Siddhi on Thursday to extend support to Anna Hazare, who is on indefinite hunger strike for passage of Jan Lokpal Bill in the Parliament.
The AAP leader said he and his colleague Kumar Vishwas would go to Ralegan Siddhi on Thursday but not share the dais with him and sit among the audience, as Hazare had said he would not be sharing dais with any political leaders.
"We whole heartedly support Anna Hazare and are with him physically, emotionally and financially. Tomorrow, I and Kumar Vishwas are going to Ralegan Siddhi. But, respecting his sentiment that he won't share dais with any political leaders, we would be sitting among the audience," Kejriwal said, while addressing a gathering of volunteers.
Pressing for passage of Jan Lokpal Bill in Parliament the ongoing winter session, Hazare has been on indefinite hunger strike since Tuesday.
Braving the cold weather, 76-year-old anti-graft crusader began his fast on Tuesday at his native village in Maharashtra's Ahmednagar district.
He had made it clear that he will not end his protest till the anti-graft law is passed. Hazare is fasting near the Yadavbaba temple in the village under the banner of 'Jantantra Morcha'.
The AAP leader, who has defeated three-time Delhi Chief Minister in December 4 elections, termed the present Lokpal Bill as "Jokepal Bill" and questioned that was is it the same Lokpal Bill the which Anna wants.
"Government today gave a statement that Lokpal has been passed in Lok Sabha but is held in Rajya Sabha. The Bill which has passed in Lok Sabha is actually a Jokepal Bill.
"If the government passes this Bill in Rajya Sabha, then you have not accepted the common man's view and this bill won't put a check on corruption but promote it... It would be a joke on the people of the country," Kejriwal said.