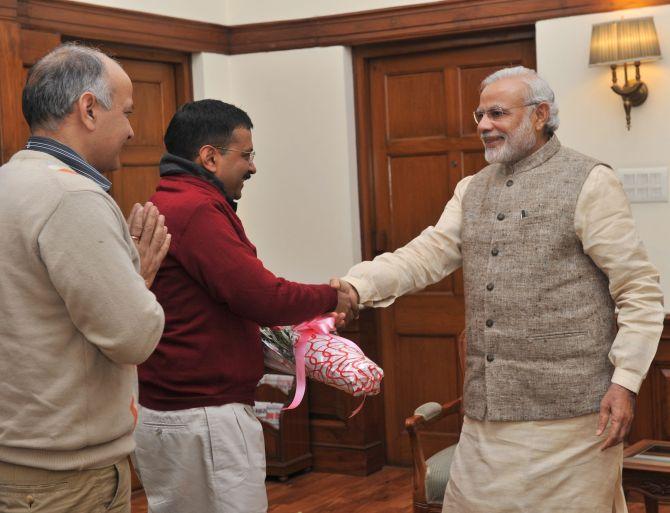 Accusing Delhi Chief Minister Arvind Kejriwal of being "totally unscrupulous", friend-turned-foe Prashant Bhushan has claimed that the Aam Aadmi Party leader can even join hands with Prime Minister Narendra Modi for personal gains.
"He (Kejriwal) is totally unscrupulous...The day it suits him, he will join hands with Modi. I have no doubt about it," Bhushan, who is currently on a private visit to the United States, told a small group of Indian-Americans and Indians in Washington on Monday.
Bhushan's remarks come even as Kejriwal-led Delhi government and the Modi-led Centre have been at loggerheads over a range of issues over the past one year.
Bhushan, an activist-lawyer who founded Swaraj Abhiyan along with Yogendra Yadav after leaving the Aam Aadmi Party last year, said he regrets having not "recognised" such traits of Kejriwal early on.
"He used people like me and Yogendra to gain credibility, and at the same time ensured that he enjoys majority in decision-making bodies of the AAP so that he can go ahead with his agenda," he said.
Responding to a question, Bhushan alleged that Kejriwal is not interested in fighting corruption.
"He does not want accountability for himself," Bhushan said, alleging that he has been hearing a lot of corruption cases about AAP MLAs.
"Arvind has Manmohan Singh syndrome, who never took money himself but allowed others around him to take money," the former AAP leader alleged.
Talking about assembly elections in Punjab, Bhushan said an Aam Admi Party government in the state will be much worse than that of the Congress.
"It would be rudderless and chaotic," he said while asserting that the AAP is not a credible alternative in Punjab.
"The Congress, in fact, is a much nicer choice in Punjab. In my view they would be better than the AAP. They (Congress) have experience. There is no principle left in the AAP," he said.
Swaraj Abhiyan, he said, is not ready yet to jump into politics.
"This will take about a year," he said in response to a question.
Before joining electoral politics, he said, Swaraj Abhiyan wants to establish within itself the principles of transparency, accountability and democracy.
"We do not want to repeat the mistakes we did in the case of the AAP," he said, adding that people like him were taken for a ride by Kejriwal.
© Copyright 2023 PTI. All rights reserved. Republication or redistribution of PTI content, including by framing or similar means, is expressly prohibited without the prior written consent.