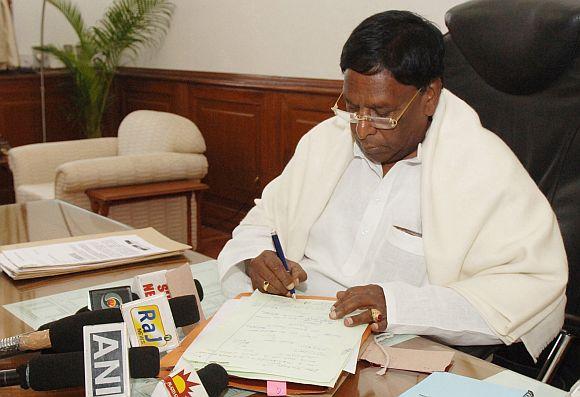 Stepping up its attack against anti-graft activist Arvind Kejrival, the Congress on Sunday charged him with trying to 'gain cheap popularity' by leveling charges against Union Law Minister Salman Khurshid in connection with an organisation being run by his family.
"This is cheap popularity. He does not know what is democracy, parliamentary procedures. He wants popularity and is using the media for this," Congress leader and Minister of state in the Prime Minister's Office, V Narayansamy said.
Speaking to reporters at the airport here, he said Kejrival would one day "feel the heat and learn a lesson." Defending Khurshid, he said there were no irregularities and maintained it was a private transaction where there was 'no proof to show government support'.
"Kejrival is maligining people. He will feel the heat and learn a lesson," the minister said adding a100 slogan-shouting persons cannot 'decide the fate of the country'.
He charged Kejrival with furnishing 'bogus account', regarding the money collected for social activist Anna Hazare's fast in Delhi demanding Lokpal.
Kejrival had accused that Khurshid's non-governmental organisation siphoned off money meant for disabled. The minister's wife and director of the NGO, Louise Khurshid, had described them as 'baseless innuendos' and accused the activist of 'doing politics using the shoulders of the disabled'.
On the Cauvery issue, with Supreme Court endorsing the Prime Minister Manmohan Singh's ruling as head of Cauvery River Authority asking Karnataka to release 9,000 cusecs of water to Tamil Nadu, Narayanasamy said that state had 'no other alternative'.
© Copyright 2021 PTI. All rights reserved. Republication or redistribution of PTI content, including by framing or similar means, is expressly prohibited without the prior written consent.