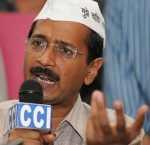 Arvind Kejriwal and a group of disabled people on Monday called off their four-day-old protest in Delhi against Salman Khurshid and announced a fresh campaign against him in his Uttar Pradesh constituency Farrukhabad from November 1.


Kejriwal also alleged that there was a quid pro quo between the Congress, which is supporting Khurshid, and Samajwadi Party chief Mulayam Singh Yadav who is facing a disproportionate assets case in the Supreme Court.
Announcing the end of his protest at Parliament Street, Kejriwal claimed that they have not received a response from the Prime Minister's Office for an appointment and now they are shifting their battle to Farrukhabad.
"Now the volunteers will go to Farrukhabad. We are getting more documents against Khurshid. The public will make a disabled person fight against him in the next elections and defeat him," he said.
Claiming that the Congress and other parties like the Bharatiya Janata Party and the SP have been 'exposed' in the fight against corruption, he also targeted Manmohan Singh. "He too has been exposed. He does not speak. The Congress and the BJP are hand in glove. In a couple of days, (BJP chief Nitin) Gadkari will be exposed," he said.

He said if the country has the Right to Reject as Anna Hazare demands, then these people will not get elected. "During this Dussehra festival, we should not burn the effigies of mythical Ravan (and Meghdhoot and Kumbhakarna). Let us not burn their effigies. Let us select three people who are Ravans of the present," he said.

He also said that they will participate in a mahapanchayat of farmers where they will expose alleged links between Robert Vadra, DLF and other companies in land deals.
He appealed Delhiites to switch off their lights for an hour in the evening on November 2 to protest against power tariff hike in the capital. On the Uttar Pradesh government's probe into the alleged irregularities of Dr Zakir Hussain Memorial Trust run by Khurshid and his wife Louise, he said the minister and the father-son duo of Yadav and Akhilesh will bail out each other.
Khurshid has denied the allegations of irregularities in his non-governmental organisation.
"There is enough evidence building up but the question is who will conduct an investigation. Akhilesh Yadav? A case of disproportionate assets is pending against his father Mulayam Singh in the Supreme Court. Who will appoint the government lawyer against Mulayam? The law minister will do. Now Khurshid will save Mulayam Singh and Mulayam's son will save Khurshid," he said addressing IAC activists on the fourth day of their protest at Parliament Street demanding Khurshid's resignation.
Kejriwal presented a disabled person who alleged that he was not provided any help as claimed by the NGO. "Why is the Congress defending Khurshid's NGO? What is the relationship? Is it Khurshid's NGO or is it the Congress party's NGO? The party is definitely involved somewhere," he said.
Levelling fresh charges against Khurshid, Kejriwal alleged that one Pankaj Kumar from Mainpuri whose name figures in the list of beneficiaries did not get any help from the NGO.
"The document given to the government says he has been provided with a hearing aid. But he has problems in his legs. He was not given any hearing aid," Kejriwal claimed in the presence of Kumar. Kumar also said he had not received any hearing aid though he did not need it. "I have problems with my legs and not ears," he said.
Vivek Yadav, an activist from Mainpuri, claimed that they had searched for beneficiaries in the locality of the Dewar block but they could not locate two names -- Santosh Kumari and  Sasi Mohan -- who were provided with wheelchairs.
The name of another beneficiary Dayaram, who had an eye surgery and is not a handicapped person, also figures in the list, he alleged. The activist also claimed that he had spoken to one of the officers whose signature has been allegedly forged by the NGO and asked him to join his group.
"The officer now says he does not remember what exactly happened. This is UP politics. One by one all evidences are being erased. Give ten more days and there will be no proof. The enquiry has already been done. Why we need one more enquiry," Kejriwal asked.