In a princely offering, Telangana Chief Minister K Chandrasekhar Rao on Wednesday donated gold ornaments worth around Rs 5 crore to the famous hill shrine of Lord Venkateswara in Tirumala for fulfilling the vows he had made for realisation of separate Telangana.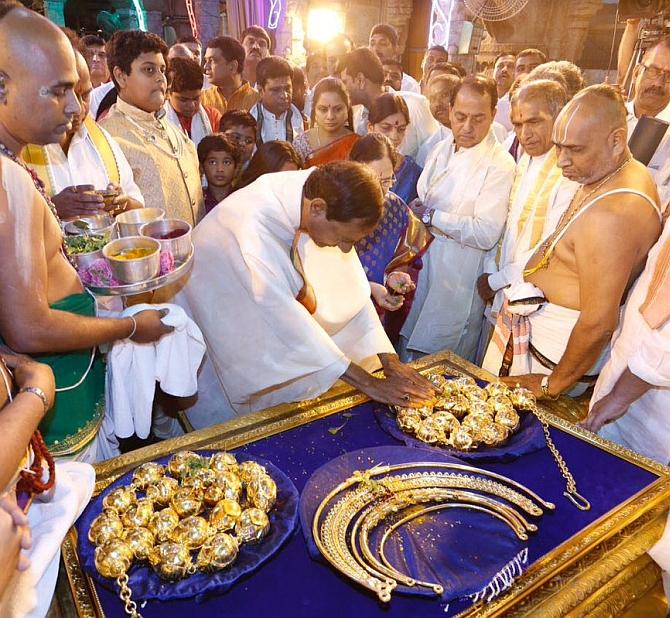 Accompanied by family members and some cabinet colleagues, Rao had arrived in Tirupati on Tuesday night by a special flight on a 15-hour maiden spiritual visit to the ancient temple.
After offering worship to the presiding deity (Lord Venkateswara) this morning, the Telangana Chief Minister handed over a golden garland studded with fossilised shells called "Shaligram Haram" and a multi-layer gold necklace called "Makhara Kantabharanam," totally weighing about 19 kg and worth about Rs 5 crore to the temple Executive Officer, D Sambasiva Rao this morning, temple sources said.
It was the first of such huge offering ever made by a state government since independence in the country, to the 2,000-year-old hill shrine, richest in the world, the sources said.
Later, at the sprawling Ranganayaka Mandapam inside shrine, Rao was honoured with sacred silk cloth and prasadam while the high priests, amid chanting vedic hymns, bestowed blessings on him.
Before leaving for Hyderabad, Rao also offered his obeisance and made a gold offering at the shrine of Sri Padmavathi in Tiruchanur near Tirupati, the sources added. He presented a nose stud to the Goddess.
In a brief chat with media persons outside the shrine, Rao said he came to the shrine to offer prayers and make the offerings as well to Lord Venkateswara as a fulfillment of his vow.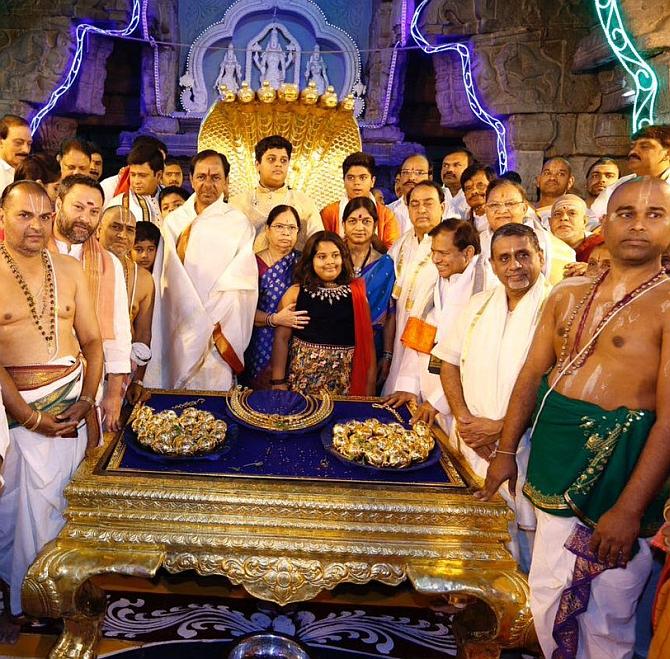 Rao had made vows for realisation of separate Telangana in the name of deities of different famous temples during the statehood agitation.
Apart from Rs 5 crore for Lord Venkateswara Swamy, Rs 59 lakh has been sanctioned for other deities.
This was KCR's maiden visit to the famed hill shrine after becoming the chief minister
In the coming days, he is expected to visit Veerabhadra Swamy temple in Warangal to present "Golden Moustaches" to Lord.
The opposition had criticised the move when government orders were issued, raising questions on spending crores from state exchequer for fulfilling a personal pledge.
According to a report in the Deccan Chronicle, the revenue-surplus Telangana state is facing a huge revenue deficit in the ongoing financial year, with expenditure surpassing earnings. The auditing done by finance department for the April-October period revealed that the state is facing a deficit of nearly Rs 7,000 crore despite revenue-earning departments witnessing a decent growth rate of 15 per cent.
In October 2016, KCR had presented Rs 3.5 crore worth golden crown weighing 11.7 kg to Goddess Bhadrakali in Warangal.
Photographs: ANI Photo