Recalling Chhatrapati Shivaji's achievements, Telangana Chief Minister and Bharat Rashtra Samithi president K Chandrasekhar Rao on Sunday said his party will take a pledge at Shivneri, the erstwhile Maratha ruler's birthplace, to form a government for farmers' welfare in the country.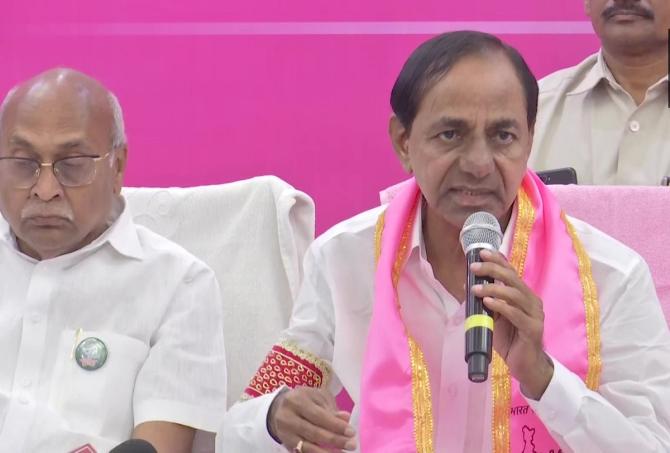 Speaking at a public meeting in Nanded of Maharashtra, he said within 10 days, the BRS' party vehicles will go to every village in all 288 assembly constituencies in Maharashtra to form farmers' committees.
"We will visit the birthplace of Chhatrapati Shivaji Maharaj at Shivneri, bow our head and take oath for making a farmers' government. The process to make farmers' committees in entire Maharashtra will begin," he said.
Leaders belonging to various political parties joined BRS and KCR, as Rao is known as, welcomed them by offering pink scarves.
"Within a few days, BRS party work will start in Maharashtra. Within eight to 10 days, BRS vehicles will come to the village in Maharashtra. Committees will be formed. In order to unite farmers in Maharashtra which has 288 assembly constituencies, all 288 vehicles will start at once," he further said.
"I request you (farmers) to unite. I will also visit western Maharashtra, Vidarbha and north Maharashtra," Rao added.
Pointing out that Maharashtra has recorded the highest number of farmers' suicides in the country, Rao said in Nanded on Sunday that the time has come for peasants to take the reins of the country.
Addressing BRS first public meeting outside Telangana at Nanded, he said political parties and leaders are winning in polls but people are losing.
"That's why BRS slogan is abki ki baar, kisan sarkar (This time around, a government for the farmers). If we unite, it is not impossible. In our country, farmers constitute more than 42 per cent and if the number of farm labourers is also added to that it will be more than 50 per cent which is sufficient to form government", Rao said.
"Today, time has come. 75 years is a long period. Farmers should also be able to write and make rules," he said.
There are several rivers like Krishna and Godavari flowing in Maharashtra. Even then, why is there water shortage in Maharashtra, he questioned.
"Why there is scarcity of water in Maharashtra? Who is responsible for it? Think over it. Congress ruled the country for 54 years and BJP ruled for 16 years. These two parties are kasooravaar (guilty). I want farmers' suicides to stop. If a farmers' government is formed then water problem will be solved," Rao, popularly known as KCR, said.
After his arrival from Hyderabad earlier, Rao along with his daughter and BRS MLC K Kavitha, Telangana minister for endowments Indrakaran Reddy and some senior leaders of the party accompanied Rao and offered prayers at a gurudwara in Nanded.
© Copyright 2023 PTI. All rights reserved. Republication or redistribution of PTI content, including by framing or similar means, is expressly prohibited without the prior written consent.