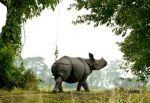 The 'World Heritage' site Kaziranga National Park and the Rajiv Gandhi Orang National Park in Assam will re-open on Thursday, while Manas National Park will welcome visitors from November 4.
After its annual closure due to severe flooding during the monsoons, the gates of Kaziranga National Park in upper Assam's Golaghat district will now be thrown open to visitors on Thursday, park authorities said.
Though the flood water has not completely receded, the authorities said, roads and bridges that were damaged in the deluge have been repaired so that tourists can take elephant rides to see the one horned rhino along with a variety of other animals and birds.
The visitors would also be able to go on open jeep safari rides on designated routes inside the park which are clear of flood waters now, they said.
Last year, the most important tourist hub in Assam had recorded a 1.25 lakh inflow of both foreign and domestic visitors, the authorities added.
Apart from the largest population of the one horned Indian rhinoceros in the world, the KNP also has the largest population density of the Royal Bengal Tigers per 100 sq km, they said.
Security measures have also been intensified in and around the park in view of 19 rhinos killed so far by poachers, taking the total death toll to 44. The rest of rhino deaths had taken place due to floods this year.
The Rajiv Gandhi Orang National Park located between Darrang and Sonitpur districts is ready to receive visitors, forest department sources said.
Called the 'Mini Kaziranga,' Orang National Park is considered as the oldest game reserve in Assam located on the northern shores of Brahmaputra.
The 78.81 sq km park has animals such as elephants, barking deer, leopards, tigers, sambar and the one-horned rhinoceros, besides 222 species of birds.
The other World Heritage site of Manas National Park, situated on the foothills of the Himalayas in Barpeta district with a part extending to Bhutan, is scheduled to re-open to the public on November 4, the sources added.
The 360-km sanctuary is home to a great variety of wildlife, including tiger, golden langur, wild buffalo, hispid hare and Indian one-horned rhinoceros.
Manas has one of Assam's two Tiger projects.