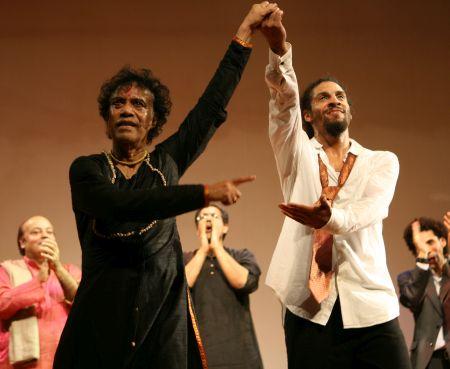 'Guruji inspired and changed the lives of so many for the better in the United States, in India, and elsewhere.'
'If you knew him, ever saw him teach, saw him dance, you would have thought that if anyone would live forever, if anyone could defy the inevitability of mortality, it would have been Pandit Chitresh Dasji.'
Hours after renowned Kathak maestro Pandit Chitresh Das, 70, died of acute aortic dissection in his home in California, tributes poured in honouring the great dancer, and an even greater human being. Ritu Jha/Rediff.com reports.
Kathak maestro Pandit Chitresh Das passed away on Sunday due to heart problems leaving behind his imprint across America.
The 70-year-old, popularly known as Guruji, died in his hometown of San Rafael in California. The funeral is scheduled for Friday.
Hours after his demise, his Facebook page was updated. It read, "It is with deepest sadness that we inform you of the sudden passing of the great Pandit Chitresh Das today. Guruji did not suffer and was surrounded by family and loved ones. His contribution to Kathak, to dance, to art, to India, to community, to humanity, and to life stretched across the globe and beyond. In his words, 'Life and death are the only reality. You come alone, you go alone. Only thing to do in between is practice and do whatever you do with love'. He certainly did that and then some.... Chhandam intends to fully carry on the legacy and vision of Pandit Chitresh Das."
Born in India, Das, a child prodigy, arrived in the United States in 1970 on a Whitney fellowship to teach kathak at the University of Maryland. Later on the invitation of Ustad Ali Akbar Khan, he established a dance program at the Ali Akbar College of Music in San Rafael, California.
In 1979, he established the Chitresh Das Dance Company and Chhandam School of Kathak in San Francisco dedicated to the preservation, promotion and education of kathak and Indian culture.
Speaking of Guruji's influence, Sarah Morelli, associate professor of Ethnomusicology, University of Denver, Lamont School of Music, said, "Guruji inspired and indeed, changed the lives of so many for the better in the United States, in India, and elsewhere."
Morelli, who has written the dissertation 'From Calcutta to California', believes that though the kathak maestro is gone, his work to preserve and promote the art form will continue through his students.
Jason Samuels Smith, Emmy-award winning tap dancer, who has performed with Guruji posted his condolences on Twitter, saying, "Travel well Guruji. The world is forever changed because of you. We will dance again one day."
Other renowned dancers and people from the field also shared in the grief following Guruji's demise.
Simmy Makhijani, a San Francisco researcher on South Asian American history, said she was shocked to hear the news. Speaking told Rediff.com, "If you knew him, ever saw him teach, saw him dance, you would have thought that if anyone would live forever, if anyone could defy the inevitability of mortality, it would have been Pandit Chitresh Dasji. Shocked. Grateful to have seen him briefly just this past November. Didn't know it would be the last time. We never do."
Anirvan Chatterjee, technologist and activist from the San Francisco Bay Area, who has watched Guruji at several performances, said that he was a constant presence in the community, not just as a world famous artist, but also as an accessible and engaged teacher.
"I last saw him perform in November on his 70th birthday. He was magnificent and full of life till the end," said Chatterjee, adding, "Along with Ali Akbar Khan and Ravi Shankar, Chitresh Das was part of the generation of grandmasters that helped make California such a magnetic hub for South Asian art and culture."
Das won many awards and fellowships from the Olympic Arts Festival, the California Arts Council and the Rockefeller Foundation and in 2009 was chosen as a National Heritage Fellow by the National Endowment for the Arts, a funding for projects exhibiting artistic excellence.

Pandit Das is survived by his wife, Celine, his two daughters, Shivaranjani and Saadhvi.
Image: Kathak proponent Pandit Chitresh Das with Emmy-award winning tap dancer Jason Samuels Smith (right) during a performance.