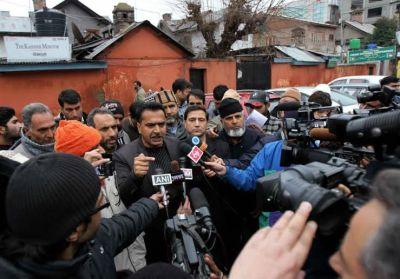 With three sarpanchs killed in December, many panchayat members are running scared and quitting their posts. Pervez Majeed reports.
Ghulam Ahmad Bhat is the latest panchayat member to be killed by suspected militants in Kashmir. On December 21, he was shot at his home in Bomai village near Sopore of Baramulla district by unidentified gunmen. He died on way to hospital in Sopore. Bhat was sarpanch of the Bomai village comprising around 150 households.
Bhat had won the panchayat election as an independent candidate. During the assembly elections, Bhat had campaigned for Irshad Rasol Kar, an independent candidate from Sopore constituency. His neighbour Ghulam Hassan Shah said the killing has shocked the village. "He was basically a social worker and we were satisfied with his performance as village leader," he said. Bhat's son, Mehboob, 24, is married with two sons. "I got married at an early age and had couldn't complete my bachelors degree; I am now the only earning hand of my family," he told rediff.com.
Bhat is the third sarpanch killed in December, and second in Baramulla district. On December 13, Ghulam Muhammad Mir, sarpanch of Hygam village near Sopore, was shot dead at an apple orchard shortly after being kidnapped from his home by a group of unidentified gunmen. Police said militants of Hizbul Majihideen are responsible for his killing. On December 1, Muhammad Sultan Bhat, sarpanch of Nazimpora village of Shopian district in South Kashmir, was killed when he was on way home in his car. His car was stopped and fired upon, killing him on the spot.
With the latest killing of Bhat in Bomai, the number of sarpanchs killed by suspected militants since panchayat elections were held in the state in May 2011, rose to 13, which includes a deputy sarpanch Ali Muhammad Dar. The panchayat elections were held in the troubled state after three decades, which witnessed an unprecedented voter turnout of 75 per cent. The elections were fought on non-party basis, but saw hectic campaigning and canvassing as the political parties fielded their candidates, though unofficially.
It was the first elections to the state's panchayats since eruption of militancy in 1989,though a subdued election to them were also conducted in 2000-01 but it didn't see any mass participation or interest. In spite of boycott call by separatists and militant organisations, in the huge turnout, a total of 4,145 sarpanchs and more than 29,000 panchs were elected in the state in 2011.
Though there was huge enthusiasm of people and political parties in one of the intensely fought rural local body elections, the continuous hounding of panchayat representatives by suspected militants and 'non-devolution of powers by the government' has rendered these village leaders incapacitated. Since the panchayat members remained on the forefront of electioneering during the previous Lok Sabha and the just concluded assembly polls, they attract antagonism of separatists and the militants, who see them as the 'representatives and foundations of the establishment'.
Fearing for their lives, a number of panchayat members have announced their resignations through local newspapers in some instances, through the loudspeakers of the local mosques after posters of militants outfits were seen in their villages, asking them to resign or "face the consequences."
The All Jammu and Kashmir Panchayat Conference, the representative body of the panchayat members of the state has been intermittently holding protests demonstrations against their killings and "insensitivity of the government."
Shafiq Mir, chairman of the AJKPC, says the panchayat members have been failed by the government. "We risked our lives and fought the panchayat elections. The state and central governments have been boasting of holding panchayat elections and portray it as their success, but both have cheated on us," he told rediff.com.
Mir, who left journalism to fight panchayat elections from his native village Boshana of Rajouri district, says that panchayat elections set the tone of higher voter turnout in the subsequent Lok Sabha and assembly elections. "But the governments in Delhi and Srinagar have left us in lurch as we continue to be the soft targets for political killings."
Earlier this year, AJKPC in a press conference in Srinagar appealed to Hizbul Mujahideen chief Syed Salahudeen to clear his position on panchayat members' killings, insisting that panchayat members have nothing to do with the 'Kashmir issue' and that their role is only limited to local development of the villages.
Peoples Democratic Party president and Member of Parliament Mehbooba Mufti termed Bhat's killing heinous and barbaric. "The government has failed to provide security to panchayat members. It has turned democratic institutions in the state irrelevant," she said.
Besides the mainstream political parties, the separatist groups too have been condemning the killings of panchayat members. Syed Ali Shah Geelani, who heads a faction of Hurriyat Conference, while condemning Bhat's killing, said he is against killing of people on the basis of political affiliations. "Killing of civilians is against Islam. They serve no purpose to our movement. I can't rule out hand of government agencies who want to defame the movement," he said.
Hurriyat Conference led by Mirwaiz Uamr Farooq in a statement condemned the killing saying the killing of innocents is unacceptable as the unarmed civilians cannot be killed on the basis of difference in ideologies.
As the harried sarpanchs continue to become "sitting duck" targets of political killings for suspected militants, the government has not come up with any concrete security measures for them so far. After the killing of Bhat, Jammu Kashmir Police said it will provide security to panchayat members "at any cost," an avowal being made since the killing of panchayat representatives started.
Stating that panchayat representatives are soft targets and militants carry out their killings to terrify them and other people, Director-General of the JKP K Rajindra has told a Srinagar newspaper: "Panchayat representatives are at the forefront in political activities in the state. We are making every effort for their security…A strategy is in place for their security. We will certainly devise a new strategy so that their security is ensured."
Image: Shafiq Mir, chairman of the All Jammu and Kashmir Panchayat Conference.