Scores of protesting Kashmiri Pandit prime minister's package employees on Monday reiterated their demand for relocation outside the valley, saying their worst fears have come true with the latest killing of a community member in Pulwama.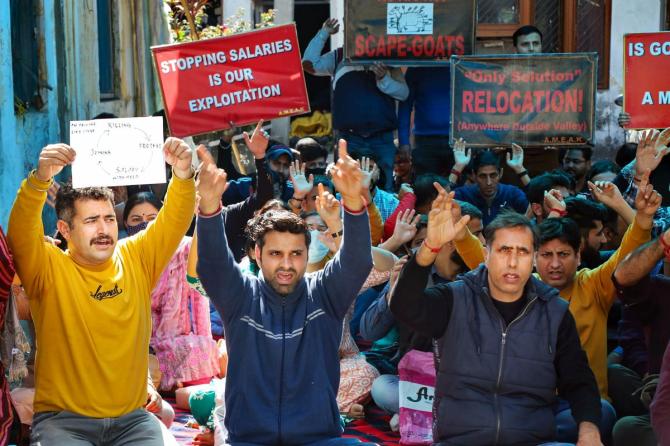 The protesters assembled outside the relief commissioner's office in Jammu and staged a protest against the killing of Sanjay Sharma (40), a bank ATM guard who was shot dead by terrorists in the Achan area of the south Kashmir district on Sunday.
"We were apprehensive about something like this, being fully aware of the ground realities. The latest killing has dealt a severe blow to our confidence and further increased our concern over our community members' safety in the valley," Yogesh Pandita, one of the protesters, told reporters.
Reiterating their demand for relocation outside the valley, he said the government's claim about a secure atmosphere for their return to join their duties stands exposed.
"The administration choked us financially by stopping our salaries to force us to rejoin our duties. We are afraid of working there given the continued targeted killings," Pandita said.
Hundreds of prime minister package employees belonging to the Kashmiri Pandit community shifted to Jammu in May last year following the killing of their colleagues, Rahul Bhat and Rajini Bala, by terrorists.
While Bhat was shot dead inside his office in central Kashmir's Budgam district on May 12, Bala, a school teacher, was gunned down in south Kashmir's Kulgam on May 31 last year.
Another protester, Ruban Saproo, said the lieutenant governor-led Union territory administration needs to hold talks with them rather than compelling them to rejoin their duties in the valley.
"One more Kashmiri Pandit sacrificed his life for the nation, despite repeated assurances by the government that it has worked out a plan for the security of the community. We acknowledge the efforts of the administration in providing security to them but there is a need to restore our shaken confidence and trust," he said.
Saproo appealed to LG Manoj Sinha not to force them to resume their jobs in the valley after Sharma's killing and to accept their demand for relocation elsewhere.
"We can perform our duties only when we are alive. The government can utilise our services in Jammu as well," a woman protester said, adding that they do not feel safe in the valley.
Meanwhile, activists of the Bharatiya Janata Party (BJP), Shiv Sena Dogra Front and Rashtriya Bajrang Dal separately staged protests against targeted killings and demanded adequate security arrangements for the safety of the minority community members in Kashmir.
Chanting anti-Pakistan and anti-terrorism slogans, BJP workers staged a protest at Kachi Chawni, the Shiv Sena Dogra Front at Rani Park and the Rashtriya Bajrang Dal near the city bus stand. The protesters burnt effigies of Pakistan for sponsoring terrorism in Jammu and Kashmir.
Dogra Sadar Sabha president and former Jammu and Kashmir minister Gulchain Singh Charak raised questions over the frequent targeted killings in Kashmir despite claims of normalcy. He demanded special security arrangements for the safety of people and adequate compensation to the bereaved family.
The migrants' wing of the People's Democratic Party (PDP) also condemned Sharma's killing and demanded an end to targeted killings.
"Some concrete steps should be taken against the targeted killings of minority community members," it said in a statement.
© Copyright 2023 PTI. All rights reserved. Republication or redistribution of PTI content, including by framing or similar means, is expressly prohibited without the prior written consent.