Thousands of Kashmiri Pandits thronged the Kheer Bhawani shrine in north Kashmir's Ganderbal district for the annual festival. Mukhtar Ahmad/Rediff.com reports from Srinagar.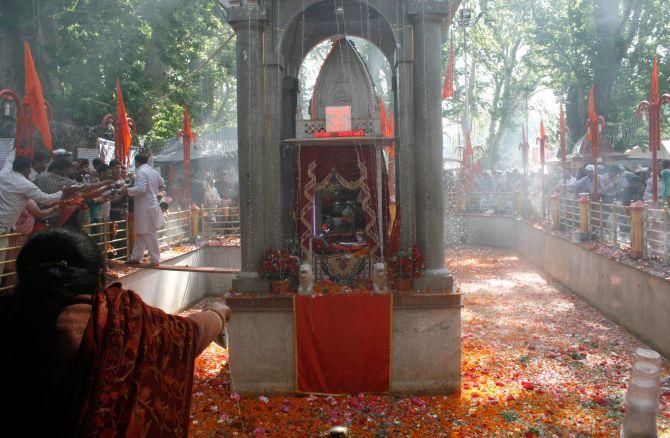 IMAGE: Devotees offer kheer at the temple. Photograph: Umar Ganie/Rediff.com
Although the festival attracted Pandits in huge numbers in the pre-1990 era, the Pandits have kept their date with the festival even after their mass migration out of the valley.
From a trickle in 1990, when militancy erupted in the valley, the numbers have, however, gradually seen an upward trend.
Thousands of Pandits started arriving in Srinagar since Saturday to pay their obeisance at one of most sacred Pandit shrines in the valley.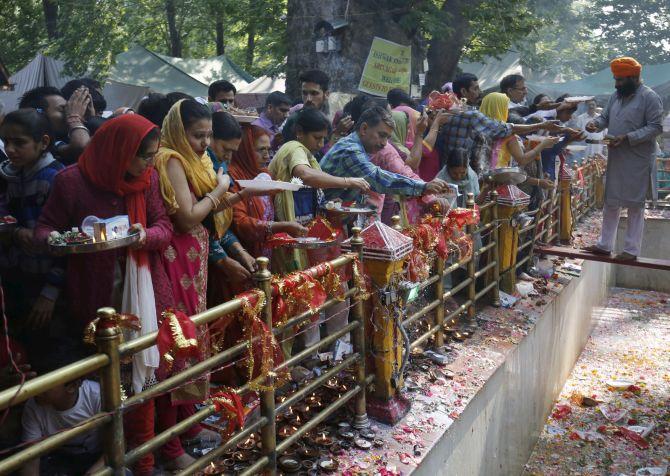 IMAGE: Devotees pay their

obeisance

at the temple. Photograph: Umar Ganie/Rediff.com
Officials said more than 13,000 Pandits gathered at the Shrine which is situated in Tullamulla town, 24 kilometres north of capital city Srinagar.
A group of Kashmiri Pandits shouted slogans against a stone pelting incident on Jammu-Srinagar national highway in south Kashmir Anantnag district late on Saturday in which two Pandit women sustained injuries.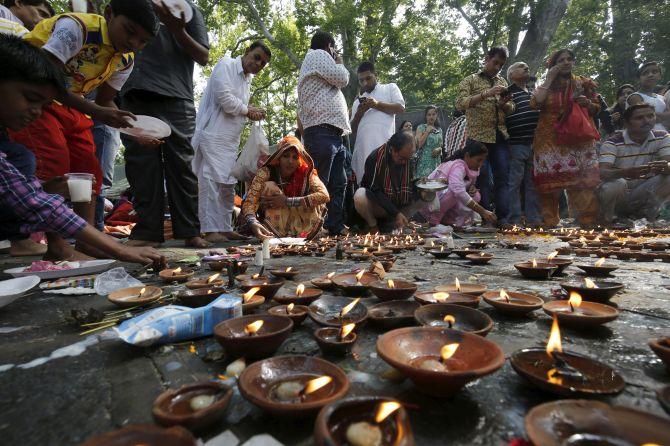 IMAGE: The faithful light oil lamps whilst praying at the temple. Photograph: Umar Ganie/Rediff.com
Heavy deployments of police and paramilitary troopers had been made all along the 24-kilometre-long route from Srinagar to Tullamulla town to secure the passage of the devotees.
Local Muslims in the town came out in good numbers to welcome the devotees and offer then milk keeping alive the traditional amity between the two communities.
Jammu and Kashmir Chief Minister Mehbooba Mufti visited the shrine and met the Pandits.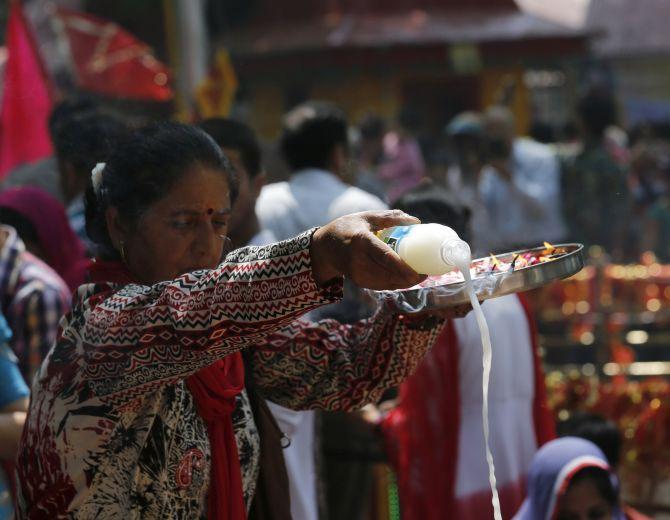 IMAGE: Supplicants come to the temple from all parts of the country to render their prayers. Photograph: Umar Ganie/Rediff.com
Mehbooba Mufti in a message extended warm greetings to the people, particularly Kashmiri Pandit community on the eve of Mela Kheer Bhawani.
She called upon people 'to strengthen the bond of togetherness between various sections of the society'.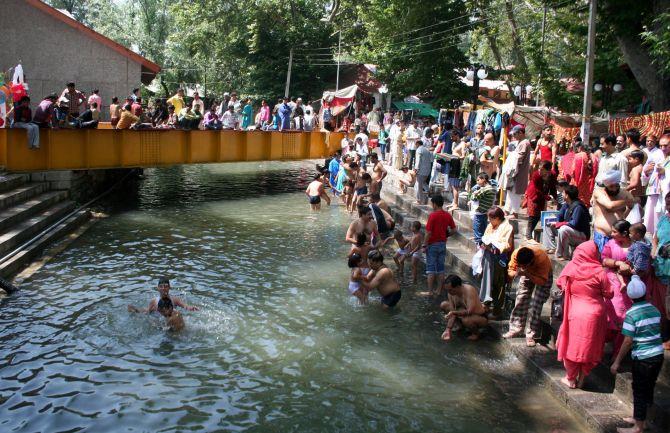 IMAGE: Devotees take a dip in the temple pool to wash away their sins. Photograph: Umar Ganie
The chief minister hoped that with the dawn of peace in the state, the Kashmiri Pandit migrants would return to the valley with honour and dignity.
"There is lot of festivity at the Shrine and there is hardly any space inside. The Shrine is full of devotees," said Daleep Koul who came from Jammu with his family.