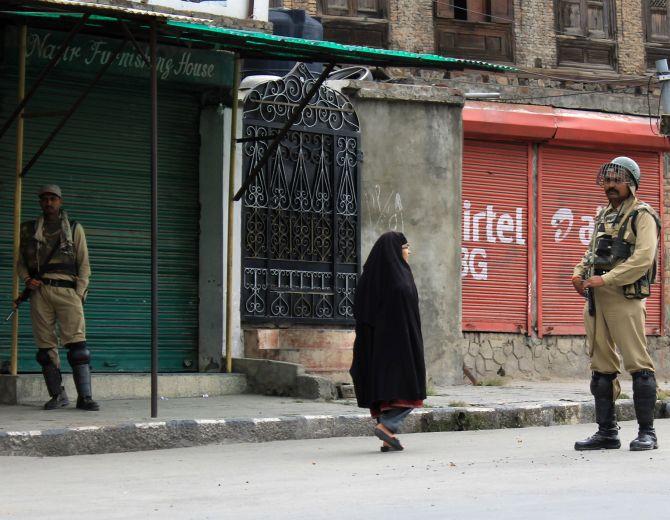 IMAGE: A woman passes through security personnel on a deserted street during the 63rd day of curfew. Photograph: Umar Ganie
At least 40 people, including security personnel, were injured in clashes at several places in Kashmir on Friday despite curfew being re-imposed in many parts of the valley where normal life remained paralysed for 63rd consecutive day due to separatist-sponsored strike.
Clashes were reported from several places in Baramulla, Bandipora, Shopian and Ganderbal districts of the valley while peaceful protests were held at many others places, a police official said.
He said at least 40 people including some security force personnel were hurt in the clashes that began soon after Friday prayers at most of the affected places.
The clashes took place even as curfew was again imposed in many parts of unrest hit the Valley on Friday.
Curfew was imposed in 14 police station areas of Srinagar and towns of Anantnag, Pulwama, Kulgam, Shopian, Pampore, Awantipora, Tral, Baramulla, Pattan and Palhallan as a precautionary measure in view of apprehensions of violent protests after Friday prayers, the official said.
There were also restrictions on the movement and assembly of people in rest of the Valley, he said.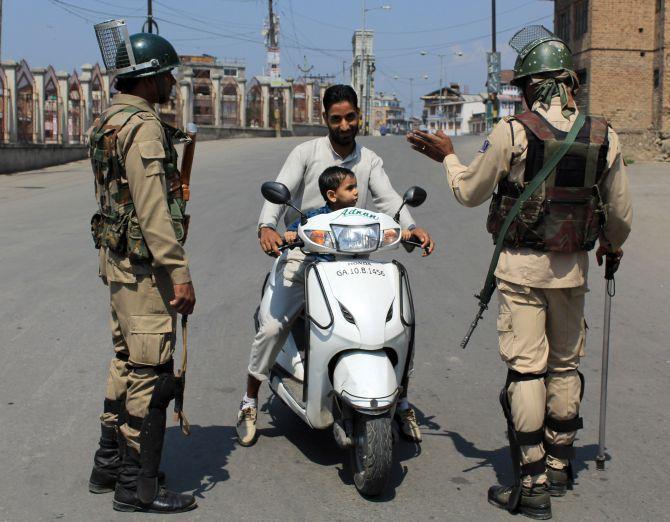 IMAGE: A scooty rider is stopped by security forces in the middle of a a deserted street Photograph: Umar Ganie
Normal life remained crippled due to curfew and the shutdown call by separatists groups against the killing of civilians in security forces' action over the past two months.
While shops, business establishments and petrol pumps continued to remain shut during the day, markets in Srinagar and other places came to life late in the evening on Thursday in view of the 12-hour relaxation in the strike from 6 pm announced by separatists.
There was no relaxation in the shutdown on Friday.
The separatists, who are spearheading the ongoing stir, have extended the shutdown programme till September 16.
Schools, colleges and other educational institutions in the Valley continued to remain closed.
The attendance in government offices and banks, which had improved significantly over the past four days, dipped on Friday owing to curfew and apprehensions of violence.
The roads and streets, which had witnessed increased movement of private vehicles in recent days, wore a deserted look, Public transport continued to be off the roads.
The deadly violence, in the wake of killing of HIzbul Mujahideen commander Burhan Wani in an encounter with security forces in south Kashmir on July 8, has left 73 people, including two cops, dead and several thousand others injured.