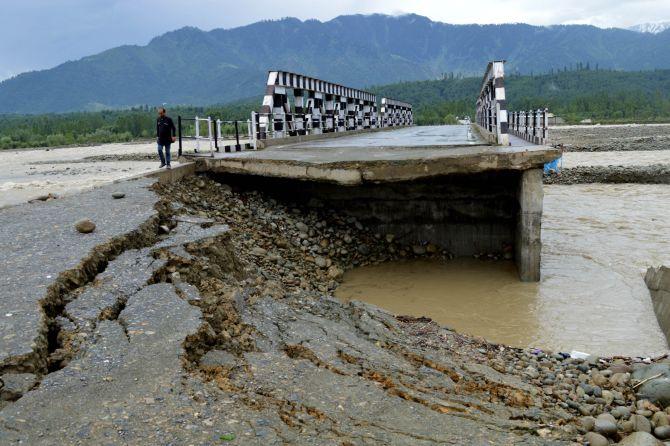 The Jhelum continues to flow above the danger in south Kashmir as well as in summer capital Srinagar even though it has stopped raining.
The rains that began on Wednesday morning and continued till late in the night led to the swelling of the Jhelum tributaries causing damage to houses and other properties in the low-lying areas in the three south Kashmir districts of Anantnag, Kulgam and Pulwama.
As the flood inundated the Srinagar-Jammu national highway in south Kashmir's Pulwama district, traffic was disrupted and had to rerouted via Tral.
No loss of life was reported from anywhere. The Jhelum's water level at Sangam was recorded at 27.15 feet at 5pm, which is several feet above the danger mark.
The quick rise in the water level of Jhelum has caused worry among the people across the Valley. The rivers dwindling capacity to take additional waters has become a talking point.
It may have been for the first time that few hours of heavy rains made the water level in the Jhelum to rise above the danger mark in south Kashmir as well as in capital Srinagar.
"The Jhelum needs a comprehensive treatment particularly desilting to raise its carrying capacity so that the situation created today is not repeated. Jhelum cannot be allowed to pose a constant threat to the life, property and infrastructure in the Valley," said a senior government officer.
Even the chief engineer at the irrigation and flood control department, Javed Jaffer admitted that immediate desilting is the need of hour. "We are in the process of procuring two dredgers to desilt the river. We have floated tenders for desilting of the river," Javed said.
He said Jhelum as of now has a capacity of 28,000 cusecs and its flood spill channel has a carrying capacity of 7,000 cusecs.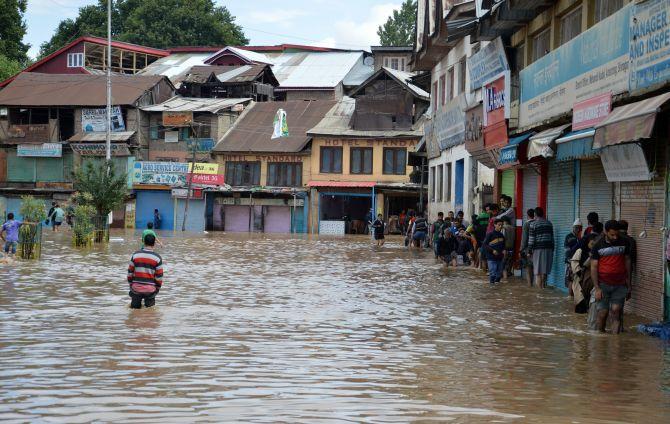 "We have to increase the carrying capacity of both the main river and its spill channel to thwart the possibility of floods in future," he added.
The residents in Srinagar are more fearful of floods as the embankments protect them from the river which flows through it.
The city including its business centre, Lal Chowk, government offices, the civil secretariat and residential areas were devastated by the September 2014 deluge as Jhelum breached the protective embankments.
The floods caused colossal damages to property and infrastructure but loss of life remained low.
The previous Omar Abdullah government had worked out an aggregate loss of Rs 44,000 crore and projected it to the centre which, however, sanctioned around Rs 3,000 crore.
The restoration of the previous flood damages has not been yet been fully restored.
Minister for Public Health Engineering, Irrigation and Flood Control, Sukhnandan Kumar Choudhary, while interacting with the people at different locations in the capital city, appealed to them not to panic. He said the entire administration has been put on high alert to meet any emergency. He, however, asked the people to remain vigilant.
Photographs: Umar Ganie/Rediff.com