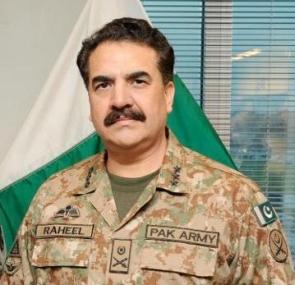 In one his strongest remarks on Kashmir, Pakistan Army Chief General Raheel Sharif on Wednesday said it is an "unfinished agenda" of the partition in 1947 and Pakistan and Kashmir are "inseparable".
Addressing cadets at the National Defence University in Islamabad, Raheel said, "Kashmir is an unfinished agenda of partition. Pakistan and Kashmir are inseparable."
He also linked peace with India to resolving the Kashmir issue according to the United Nations resolutions.
"While we wish peace, stability in the region, we want Kashmir's just resolution in the light of the United Nations resolutions and as per aspirations of Kashmiris to bring lasting peace in the region," he said.
Parts of Raheel's speech were tweeted by army spokesman Major General Asim Saleem Bajwa.
Talking about the wars, Raheel said that the "contours of future wars are fast changing" but Pakistan was capable to defend it. "While our enemies (are) supporting terrorism to stoke sub conventional conflicts and destabilise our country...(we are) fully determined and capable of defeating nefarious designs," he said. He also spoke about the use of proxies in the war against other countries.
"Pakistan (is) opposed to the use proxies versus other countries and would not allow any country to use proxies versus Pakistan," he said.
General Raheel's statement came as war of words escalated between Pakistan and India.
Union Minister V K Singh hit back at Pakistan saying it can keep harbouring "wrong notions" but that would not make any difference to the actual condition, after its army chief termed Kashmir as an unfinished agenda of partition and Pakistan and Kashmir as "inseparable".
"I think this is the notion they will keep harbouring. They can keep harbouring that wrong notion. It will not make any difference to actual conditions," Singh, a former army chief, told reporters in New Delhi.
He said Pakistan should apologise for the atrocities done to Kargil martyr Captain Saurabh Kalia, and also for its acts during the 1948, 1971 and 1965 wars.
"Any war you take with Pakistan, there has been a great amount of violation of not only the human rights but of Geneva Convention. We haven't got anything on whatever protestations we have made. We hope all our efforts will succeed. Pakistan should not only apologise over Captain Kalia's case, but should also apologise for the violations right through...whether it was 1947, 1965 or 1971 or whether it is 1999," the Minister of State for External Affairs Overseas Indian Affairs said.
On Monday, the government bowed to public pressure and reversed its stand on the brutal torture of Kalia by Pakistani troops and announced that it could explore the option of moving the International Court of Justice against Pakistan.
Pakistan has repeatedly accused India's external intelligence agency Research and Analysis Wing of being involved in militancy in Pakistan.
India has always rejected such allegations by Pakistan.
Indian objection to the US $46 billion agreement with China for an economic corridor has also upset Pakistan. India has raised concerns with China over the project as it goes through Pakistan-occupied Kashmir.
© Copyright 2022 PTI. All rights reserved. Republication or redistribution of PTI content, including by framing or similar means, is expressly prohibited without the prior written consent.