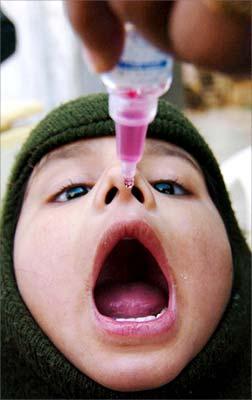 Rumours of children falling sick after being administered polio drops has triggered panic in and around Srinagar. Anxious parents were seen carrying their children to various hospitals in the capital city for check-ups.
Polio drops were administered to children up to the age group of five years by the state health authorities on Sunday. "I heard some children fell sick. I am taking my child to hospital for a check-up. I don't know what will happen," said an anxious mother holding her kid trying to protect him from the cold outside the Soura Institute.
However, a senior police officer denied any complications or death of any child anywhere. He said some mischief mongers had floated the rumours. Chaotic scenes were witnessed outside the main hospitals in the city with doctors trying to reassure parents.
The doctors in the Valley said there was no need to panic and dismissed the rumours.
"There is nothing to worry. These are baseless rumours spread by miscreants. There has been no such death," Medical Superintendent of G B Panth children hospital, Shafqat Khan said.
Medical practitioners said the vaccine cannot lead to death of the children.
"This vaccine does not cause death. At the most, there can be some side-effects including loose-motions and vomiting. There is nothing to worry," a senior pediatrician said.
-- With inputs from PTI