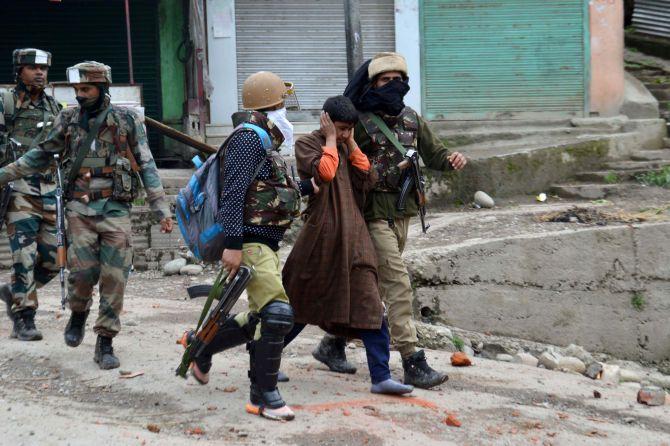 Local youths joining terror groups in the Kashmir Valley this year stood at 110 till July 15, with the worst militancy-hit district of Shopian in south Kashmir accounting for the maximum of 28 recruits, officials said.
The number of locals recruited was 126 last year and officials said they expected the figure to be higher this year.
Reports of missing people have come down after Governor's rule was imposed in the state last month, they said, but added that some youths continue to join terrorist ranks.
Security agency officials said highly volatile south Kashmir, comprising Shopian, Pulwama, Anantnag and Kulgam districts, besides Awantipora, remained a region accounting for a higher number of youths joining terror groups, including the ISIS-Kashmir and the Ansar Ghazwat-ul-Hind, an outfit which claims support of the Al Qaida.
From these five areas, 91 youths joined various terror groups operating in the Valley, they said.
The disappearance and subsequent joining of terrorist ranks by Ganderbal youth Rouf, who was in his fourth semester of a diploma course at a government polytechnic institute, was confirmed after his picture was seen on social media in military fatigues, the officials said.
If this trend continues, 2018 may end up as the worst year in terms of number of youths joining various terror groups, according to the officials.
Last year, a total of 126 youths had picked up the gun. It was the highest number since 2010, according to a recent data presented in the state Assembly and Parliament.
There has been a steady rise in the number of youths taking up arms in the Valley since 2014 as compared to the period from 2010 to 2013 when the figures stood at 54, 23, 21 and 6 respectively.
In 2014, the number shot up to 53 and in 2015, it reached 66 while in 2016, the figure was 88, the data showed.
This year, youths who joined militancy included Junaid Ashraf Sehrai, 26, an MBA degree holder from Kashmir University, and son of Mohammed Ashraf Sehrai, who took over as chairman of the Tehrek-e-Hurriyat from Syed Ali Shah Geelani. Teherik-e-Hurriyat is a pro-Pakistan amalgam of separatist groups.
The list also included 26-year-old PhD scholar Mannan Bashir Wani, hailing from Kupwara, the officials said. Wani was studying in Aligarh Muslim University.
They said infiltration was on the rise and some of the terrorists had managed to sneak into the Valley from across the border in Poonch and Rajouri districts of the Jammu region as well as through the LoC in Kashmir.