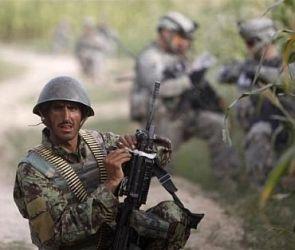 As Afghanistan enters the endgame of its 13-year-long partnership with the United States, President Hamid Karzai has added a new twist to its reliable relationship with India by presenting Prime Minister Manmohan Singh with a "wish list" for military equipment.
Speaking to reporters, he further said it was "very difficult" to achieve peace in his country without Pakistan's help as the latter had "the key to ending both terrorism and radicalism."
It is unlikely, though, that India will reciprocate to the wish list by either sending soldiers to Afghanistan or giving it lethal equipment to fight the Taliban.
"We have given a wish-list to the government," Karzai told reporters at the end of his three-day visit. He added he did not expect Delhi to send soldiers to fight the war against terrorism in Afghanistan, nor was there any need to. Kabul is happy with whatever Delhi is comfortable with, he said.
Karzai's spokesperson Aimal Faizi refused to comment on the "wish-list", saying the Afghans had an agreement with Delhi not to discuss it at all in any manner. According to the website firstpost.com, however, the shopping list includes 105 mm artillery, medium-lift aircraft and bridge-laying equipment and trucks.
Indian officials have said on the condition of anonymity it is ready to send transport helicopters as well as trucks and provide "non-lethal" equipment to Afghanistan. Indian officials say they have limited capacity in training Afghan soldiers and officers, but are willing to "train the trainers" as well as offer training in logistics, repair and maintenance works.
Karzai, during his morning press conference, displayed no reluctance in pulling his punches. "The end to the violence in Afghanistan depends upon Pakistan. Pakistan has the key to ending both terrorism and radicalism," he said.
He pointed out that he had pursued peace, notwithstanding criticism from the Americans and their international partners, even when his brother was assassinated by the Taliban. "But it's going to be very difficult without Pakistan's help, to put it mildly, because Pakistan has influence over the Taliban," said the president.
He said Kabul was carefully watching the change of political guard in Pakistan. Karzai said he had met Pakistan Muslim League (N) leader Nawaz Sharif last year and that he had spoken fondly of renewing the peace process with India, and was equally aware of the dangers of radicalisation and terrorism in Afghanistan.
On the condition of anonymity, a senior Afghan leader admitted that Kabul hoped that the improvement of relations between India and Pakistan would allow Sharif to expand his influence over the powerful Pakistani army and its policies on the AfPak frontier.
A question on Afghanistan's relationship with India and Pakistan succeeded in putting Karzai in full flow. "We are a sovereign country and have a right to choose our friends. Pakistan is a close neighbour, the people of Pakistan have given us refuge for 30 years and we will never forget that. India is a traditional friend and ally and Afghanistan values that. Our relations will not be at the cost of each other," he said.