A Ganesh Nadar reports from Tamil Nadu House on M Karunanidhi's visit to the capital.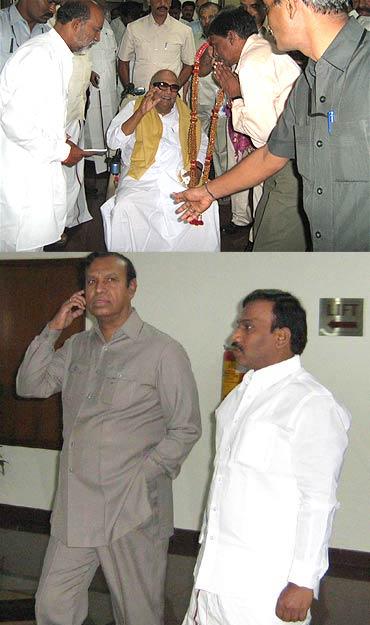 On Monday morning, Tamil Nadu House in Chanakyapuri, New Delhi, was crowded with white Ambassador cars sporting that familiar emblem of official importance, red beacons atop.
The VIPs had gathered because Tamil Nadu Chief Minister M Karunanidhi -- who is on a three-day visit to the national capital, to meet Congress president and United Progressive Alliance Chairperson Sonia Gandhi and Prime Minister Manmohan Singh among others -- is staying here.
During his meetings with the UPA boss and the prime minister, the Dravida Munnetra Kazhagam leader is expected to discuss two thorny issues affecting Dr Singh's government -- the 2G spectrum row involving Telecom Minister and DMK MP A Raja and the continued absence of his son M K Alagiri, the Union chemicals and fertilisers minister, from Parliament and Cabinet meetings.
DMK leader T R Baalu, the shipping minister in the UPA's first government who had to abandon his Cabinet perch for Alagiri's sake, walked in and out of Karunanidhi's suite, indicating that he may have lost a ministerial position, but remains influential with the chief minister.
The Cabinet minister at the heart of the UPA2 government's biggest scandal, A Raja, showed no sign of nerves. Visibly relaxed, he agreed to pose for a photograph with a couple from Thanjavur.
Also present was Textiles Minister and Karunanidhi's grand-nephew, Dayanidhi Maran.
The prime minister, who has been unable to eject Raja from his Cabinet, has not allotted time to Karunanidhi as yet, though the chief minister's visit was scheduled weeks ago. Kambam Selvindheran, Tamil Nadu's representative in New Delhi, said, "The timing of the meeting with Prime Minister Manmohan Singh is not confirmed yet. It will be held in the evening."
Karunanidhi, whose DMK party has the largest number of MPs after the Congress in the UPA formation, is making his first trip to New Delhi in a year. The last time he was here, the chief minister refused to budge till his nominees, including Raja, were included in the government.
At 10 am, Karunanidhi, who will turn 87 on June 3, emerged from his suite, accompanied by Alagiri.
The couple from Thanjavur gave him a ponnaadai (the traditional shawl) and touched his feet. He blessed them with a broad smile and posed for a photograph with a social worker from Bengaluru even as Union Minister of State for Finance Palanimanickam chided a photographer for running around the chief minister.
Predictably, no DMK leader present uttered a word about the two most important topics on Karunanidhi's agenda: How to retain Raja in the UPA Cabinet in spite of the allegations of financial foul play, and how to keep Alagiri in New Delhi though his son appears to have a pronounced aversion to the capital and would prefer a political position in Chennai where his younger brother M K Stalin is deputy chief minister.
PTI adds: Karunanidhi met Congress President Sonia Gandhi at her 10, Janpath home on Monday morning.
The chief minister and Gandhi were closeted for over 30 minutes, during which issues like the early passage of the Women's Reservation Bill in the Lok Sabha came up for discussion.
He is also understood to have brought to Gandhi's notice the need for Parliament to pass with a two-thirds majority the Tamil Nadu assembly resolution to revive the legislative council, which was abolished by then chief minister M G Ramachandran.
Images: Top: Tamil Nadu Chief Minister M Karunanidhi; Below: DMK leader T R Baalu with Telecom Minister A Raja. Photographs: A Ganesh Nadar