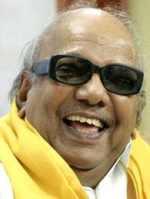 As reports of tension prevailed on the Tamil Nadu-Karnataka border over the Cauvery water row, Dravida Munnetra Kazhagam chief M Karunanidhi on Monday said the ruling Bharatiya Janata Party in Karnataka and the All India Anna Dravida Munnetra Kazhagam in Tamil Nadu should not give room to turn the feeling of "bitterness" among people of the states into "enmity".
Underlining that he has been advocating that issues with neighbouring states should be resolved through cordial talks, he said in a statement that reports suggest Karnataka forest officials are engaged in evicting Tamil people living in border areas, leading to tension.
"Both states should handle the issue with adequate care to maintain law and order and help Tamil people living in Karnataka and people of Karnataka in Tamil Nadu live without any hurdles", Karunanidhi said.
"The ruling BJP in Karnataka and the AIADMK in Tamil Nadu should not give any room for the prevailing feeling of bitterness among people of both states over the Cauvery water issue turn into enmity," he said.