The former finance minister's only child was arrested at Chennai airport.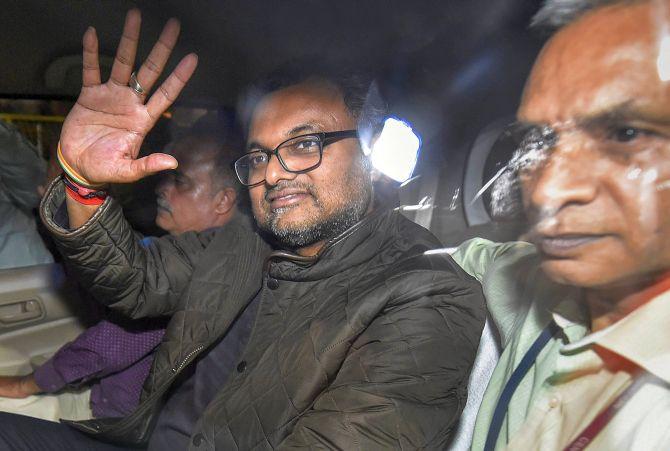 IMAGE: Karti Chidambaram, son of former union minister P Chidambaram, being escorted by police personnel along with CBI officials to the Patiala House Court in New Delhi. Photograph: Arun Sharma/PTI Photo
Karti Chidambaram, arrested by the Central Bureau of Investigation in connection with the probe into the INX Media case, was on Wednesday sent for one-day custodial interrogation by a Delhi court.
Though the CBI had sought 15-day remand for the custodial interrogation of Karti, duty magistrate Sumeet Anand granted a day's custody, making it clear that he should be produced before the concerned special judge on Thursday at 2.30 pm.
Duty magistrate is a judge before whom an accused is produced when the concerned judge is not available or when any accused is produced after the regular court hours. In this case, the concerned special judge had left the court premises around 4.30 pm, about 20 minutes before Karti was brought to the court.
Karti, who was arrested in the morning at Chennai airport after he landed there from London, was produced before Metropolitan Magistrate Sumeet Anand around 4.50 pm when the CBI sought his custody to quiz him for unearthing the "total conspiracy" in the case claiming he was not cooperating in the probe.
During the hearing, CBI's prosecutor V K Sharma told the court that Karti has not cooperated in the investigation and he has been repeatedly travelling abroad which "confirmed apprehensions" that "he will flee" from the country.
He alleged that one of the grounds for arresting Karti was that the CBI had recorded statement of Indrani Mukerjea, former Director of INX Media (P) Ltd, before a magistrate on February 17 in which she had said that Karti had "accepted one million dollars from INX Media" at the Hyatt Hotel.
Karti arrest vendetta: Congress
The Congress dubbed the arrest of senior leader P Chidambaram's son Karti Chidambaram a "diversionary tactic" by the government to hide its scams and said "political vendetta" would not deter the party from speaking the truth.
A band of Congress leaders, including the party's communications in-charge Randeep Surjewala, Kapil Sibal and Abhishek Singhvi, came out in support of Karti Chidambaram, sharply criticising his arrest.
It was a classic diversionary tactic to hide "corruption scams, mal-governance and mal-administration that have marred this government", Surjewala said.
"The Congress party will not be deterred by the unleashing of vendetta against Mr P Chidambaram or his family. We will continue to speak the truth. We will continue to expose the Modi government's corruption and we will continue to hold them accountable to the people of the country," he told reporters.
Senior Congress leader Sibal termed the arrest "malafide" and said it was done to harass P Chidambaram. "This is complete vendetta politics. This is completely malafide," he said
Opposing the CBI's contentions, senior advocate A M Singhvi, appearing for Karti, said it was a "bizarre" case and no grounds for arrest were made out.
"It is a bizarre case at the threshold. It is not a case of arrest, leave aside police custody or judicial custody," Singhvi told the court while opposing the CBI's remand plea.
He also argued that Karti was summoned twice by the CBI on August 23 and 28 last year and he was interrogated for 22 hours by the agency.
Singhvi said, "There are no reasons given for the arrest. It is because you (CBI) want to show it to your bosses that you are doing some work."
"Unlike others, I (Karti) am not 'Hindustan leaver' and instead I am 'Hindustan returner'," he said and claimed that Karti was cooperating with the CBI and the court might impose any condition while releasing him from the agency's custody.
"I (Karti) am not a fugitive," Singhvi, who was assisted by senior advocates Dayan Krishnan and Mohit Mathur, told the court.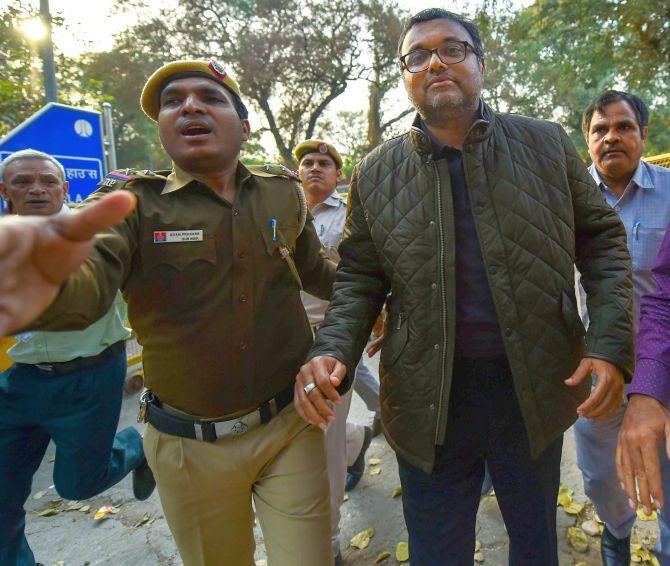 IMAGE: Earlier in the day, Karti was taken into custody by a team of CBI officials at the Chennai airport on his return from the United Kingdom. Photograph: Ravi Choudhary/PTI Photo
The CBI, in its remand plea, has alleged that Karti had not cooperated in the investigation by joining the same "until compelled to do so by the Supreme Court" and he "vehemently denied that he or his company had any interaction with INX Media on any matter including FIPB related matter despite evidence to the contrary".
"Thus, Karti Chidambaram needs to be subjected to sustained interrogation for unearthing the total conspiracy hatched in the case and also to find out the details of overseas payments received by him from INX Media as a quid pro quo for influence exercised by him over the public servants to scuttle the punitive action required to be taken against M/s INX Media (P) Ltd for the illegal acts of receiving excess investment than the approved FDI and also for making of downstream investment without the FIPB approval. For this purpose, his police custody remand for a period of 15 days is considered essential," the remand plea said.
The agency claimed that Karti's "frequent" visits abroad have confirmed "apprehensions of his tampering with the evidence lying abroad against him and others in the form of secret note received from the Ministry of Finance".
It said the "secret note" received from the finance ministry was also shown in a sealed cover to the apex court and the Madras High Court while objecting to Karti's foreign visits and justifying the look out circular issued against him.
At the outset, the court allowed the request of Karti's lawyers to have an interaction with him inside the court room for 10 minutes, after which the proceedings resumed.
When Karti was brought from CBI headquarters here to the Patiala House court premises and taken to the courtroom, he told waiting scribes, "It's absolutely a political vendetta. I will be vindicated".
Earlier in the day, Karti was taken into custody by a team of CBI officials at the Chennai airport on his return from the United Kingdom.
The CBI had lodged an FIR on May 15 last year alleging irregularities in the Foreign Investment Promotion Board clearance to INX Media for receiving overseas funds to the tune of Rs 305 crore in 2007 when P Chidambaram was the Union finance minister.
It also alleged that Karti had received funds to the tune of Rs 10 lakh in the case.
The case was lodged by CBI for alleged offences under sections 120-B (criminal conspiracy) read with 420 (cheating) of the IPC and under relevant provisions of the Prevention of Corruption Act.
CBI also alleged that Karti had also received money from INX Media to scuttle a tax probe. The firm was owned at the time by Peter and Indrani Mukerjea, who are currently in jail on charges of allegedly murdering Indrani's daughter Sheena Bora. The Enforcement Directorate has also registered a money laundering case in the INX Media matter.
Chronology of Karti case
>> May 15, 2017: CBI files FIR, alleging irregularities in Foreign Investment Promotion Board clearance to INX Media for receiving overseas funds to the tune of Rs 305 crore in 2007 when Karti's father was the Union finance minister.
>> June 16, 2017: The Foreigner Regional Registration Officer and Bureau of Immigration, under Union home ministry, issues look out circular against Karti.
>> Aug 10: Madras HC stays the LOCs issued against Karti and four others holding that they were prima facie "unwarranted".
>> Aug 14: The Supreme Court stays Madras HC order staying Centre's LOC issued against Karti.
>> Aug 18: SC asks Karti to appear before CBI on August 23.
>> Sep 11: CBI tells SC it has furnished details in a sealed cover on the probe about "possible transactions" in foreign countries and 25 alleged offshore properties of Karti Chidambaram.
>> Sep 22: CBI tells SC that Karti was prevented from travelling abroad as he was allegedly closing several of his foreign bank accounts.
>> Oct 9: Karti seeks SC's nod to visit the United Kingdom to get his daughter admitted at the CambridgeUniversity and expresses willingness to undertake that he would not visit any bank there.
>> Oct 9: P Chidambaram tells SC that the BJP-led government has been carrying on a "politically-motivated vendetta" against him and his son.
>> Nov 20: SC allows Karti to visit UK for daughter's admission.
>> Dec 8: Karti moves SC challenging the summons issued by the CBI against him in the Aircel-Maxis deal case.
>> Jan 31, 2018: SC remands back to the Madras HC, the pleas relating to issuance of two LOCs against Karti and others.
>> Feb 16: Karti's CA S Bhaskararaman arrested for allegedly assisting him to manage his "ill-gotten wealth" in India and abroad.
>> Feb 28: Karti arrested by CBI at Chennai aiport and brought to Delhi. Delhi court sends him to one-day police custody.