Ending all speculations, senior Congress leader Siddaramaiah on Monday announced that he will be contesting the forthcoming Karnataka assembly polls from Kolar constituency.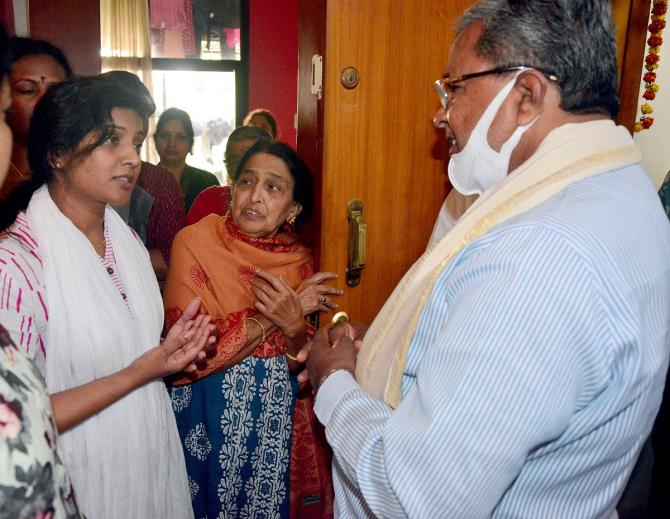 The 75-year-old former chief minister, who was looking for a "safe seat", had been giving indications about choosing Kolar for some time now, by holding a series of meetings with party leaders from the district.
"I have decided to be a candidate for the next election from Kolar," Siddaramaiah said at a public meeting in Kolar amid loud cheers from the crowd.
"I have decided to contest from this constituency, but it is subject to approval from the high command," he said.
Congress leaders and workers from Kolar have been exerting pressure on the Congress legislature party leader to contest from there.
Siddaramaiah had received similar requests from Varuna, Badami, Hebbal, Koppal and Chamrajpet segments among others.
The Congress legislature party leader's earlier visit to Kolar in November and his cryptic statement about coming back to the constituency during the filing of nomination, had led to speculation that he may contest the 2023 assembly election from Kolar.
Siddaramaiah, who currently represents Badami segment of Bagalkote district in northern Karnataka, had indicated that he may not contest from there, citing his inability to give more time for people and party workers of the constituency.
Srinivasa Gowda, Kolar's sitting MLA from Janata Dal-Secular, who has switched sides to Congress, had earlier indicated that will not be contesting polls and wants Siddaramaiah to contest.
Siddaramaiah, who has announced that 2023 assembly polls would be his last, had made it clear that he would not contest from Chamundeshwari.
As the then sitting chief minister, he lost the 2018 polls in Chamundeshwari to Janata Dal-Secular candidate GT Deve Gowda by 36,042 votes.
He, however, won Badami, the other constituency from where he had contested and defeated B Sriramulu (Bharatiya Janata Party) by 1,696 votes.
Making his debut in the assembly in 1983, Siddaramaiah had got elected from Chamundeshwari on a Lok Dal Party ticket.
He has won five times from this constituency and tasted defeat thrice.
After neighbouring Varuna became a constituency in 2008 following delimitation, Siddaramaiah represented it till he vacated the seat for his son Dr Yathindra (now MLA) in the 2018 assembly polls and went back to his old constituency of Camundeshwari.
Siddaramaiah, who was chief minister from 2013 to 2018, is nursing ambitions for a second term in office, if the party wins the next assembly polls.
With state Congress president D K Shivakumar too having similar aspirations, it has triggered a game of one-upmanship between the two leaders.
Congress functionaries hope that Siddaramaiah contesting from Kolar will help the party's prospects in the districts of Kolar, Chikkaballapura and Bengaluru Rural, and they recalled his work in ensuring water supply for the drought-affected region by initiating Yettinahole Project, and filling up tanks with KC Valley and HN Valley projects.
According to party sources, Kolar is a safe bet for Siddaramaiah as it will consolidate AHINDA votes in his favour and Vokkaliga leaders of the party from the region also have pledged support to him.
AHINDA is a Kannada acronym that stands for 'Alpasankhyataru' (minorities), 'Hindulidavaru' (Backward Classes) and 'Dalitaru' (Dalits).
They said Siddaramaiah's supporters have conducted surveys and have concluded that the seat can ensure a comfortable win for the "Kuruba" leader, and Kolar being close to Bengaluru city could make it easy for him to ensure his presence there often.
Amid fears that a factional rift in the Kolar unit of the party, with former Union minister K H Muniyappa upset, may become a drawback to his prospects, the Leader of Opposition had made attempts to reach out to the sulking leader.
Siddaramaiah had even met Muniyappa before leaving for Kolar on Monday.
Muniyappa is upset with senior MLA and former Speaker Ramesh Kumar's (a Siddaramaiah loyalist) growing prominence in the Kolar unit.