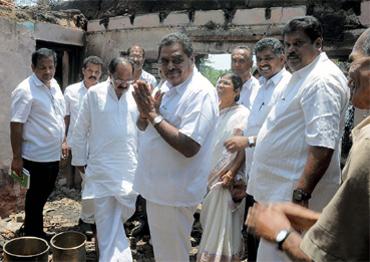 Despite many saying that the recent urban local body election results cannot be a pointer to the assembly elections, the Congress in Dakshina Kannada district feels that this is their best chance to defeat the Bharatiya Janata Party.
Ramanath Rai, the district Congress chief, will be contesting from the Muslim-dominated constituency of Buntwal. Campaigning extensively in the region, the former minister is hopeful of another win.
Rai, who is from the Bunt community, does enjoy the backing of his community. This is also coupled with a major Muslim vote-bank which has always leaned towards the Congress.
He is contesting this seat for the seventh time. A former minister in the S M Krishna government, Rai won this seat in 1985, 1989, 1994, 1999 and 2008. In 2004 he lost to Nagaraj Shetty of the BJP. He faced Shetty once again in 2008 and won by a thin margin of 1,251 votes.
Rai is an emotional campaigner and this time around he has decided to take on the mighty Dr Prabhakar Bhat of the RSS who he feels is responsible for the communalisation of the region. Rai states that his opponent from the BJP Rajesh Naik is nothing but a dummy candidate of the Sangh Parivar. "However, I am in a battle against Bhat who has fielded Naik against me," Rai informed rediff.com.
"You mark my words, the year 2013 will belong to the Congress all over the state and even Mangalore. We will win all the eight seats from DK this time. You think the people cannot see through the BJP and the kind of conspiracies they hatched especially in Mangalore to ruin the social fabric of society. The people will teach them a lesson as everyone is fed up of them and want peace," he said.
"The people who voted the BJP are regretting it. Mangalore and all the constituencies in this belt belong to the Congress only. The BJP is second here and the elections this time will prove it. The BJP has a tough road ahead. Look at their poor performance in the recent urban local body elections. The people showed how fed up of the party they were and also gave us the mandate for the good work our corporators had done," he claimed.
Regarding the massive infighting in the Congress over the seat selection process, Rai says that there are problems everywhere. "It has been sorted out and we have put the best candidates for Mangalore."
"In every constituency in Mangalore, the issue will be social justice. Only the Congress has lived up to its promise of providing social justice. The BJP has divided the society and like many other states where they have lost power and have become weak, the same would happen in Karnataka as well," he said.
Image: Ramanath Rai (folded hands) and Union minister Veerappa Moily on the campaign trail in Buntwal.
Coverage: Battleground Karnataka 2013