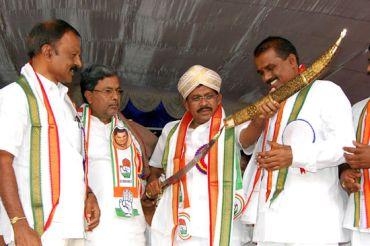 The leaders in poll-bound Karnataka have chosen another way to bring their sons or daughters into the political forefront -- by making them work for it, reports Vicky Nanjappa.
There has always been a question mark over giving tickets to the children of politicians. Now with political parties making attempts to do away with dynasty politics, the leaders in poll-bound Karnataka have chosen another way to bring their sons or daughters into the political forefront -- by making them work for it.
The 224-member Karnataka assembly is set to go to polls on May 5, and counting of seats will be held on May 8. The election is perceived to be a multi-faceted contest between ruling Bharatiya Janata Party, the Congress, the Janata Dal-Secular and former chief minister B S Yeddyurappa's newly-founded Karnataka Janata Party.
The campaign of many major leaders in Karnataka is being led by their kith and kin. These leaders feel that their children should work with them so that when they seek a ticket, it should appear as though they have earned it and the same has not been passed on.
Both aspirants for the post of Karnataka chief minister from the Congress have roped in their kith and kin to campaign for them. Siddaramaiah has roped in his elder son Rakesh to campaign for him. Rakesh was first seen when Siddaramaiah contested the by-elections on a Congress ticket from the Chamundeshwari constituency.
These days he is campaigning for his father from the Varuna constituency. Rakesh has been active in politics and feels that he should earn a seat instead of claiming it in his father's name.
The case of G Parameshwara too is similar. The Congress chief in Karnataka, who is contesting from the reserved constituency of Koratagere, is supported by his wife and elder brother.
Parameshwara has been a busy man thanks to the mad rush of aspirants for a Congress ticket. He spends most of his time in New Delhi with the high command over this issue.
However, his campaign has not suffered thanks to his family. His wife Kanika and brother Dr Shivaprasad have hit the road already and are campaigning for him.
At the Nanjangud constituency, former Union minister Srinivas Prasad, who was undergoing treatment, has roped in his son Harsha for campaigning. For sometime it was believed that Harsha would be given the ticket due to his father's medical condition, but the Congress high command decided to stick with Srinivas Prasad. Harsha has been campaigning for his father actively and is hopeful of a seat during the next assembly elections.
The other Congress leaders to have taken the assistance of their children are Mahadevappa from the T Narasipur constituency. His son Sunil is assisting him.
G T Deve Gowda from the Chamundeshwari seat is being assisted by his son Harish.
MP Vishwanath might not be contesting the assembly polls, but his son Amit Devarati, who initially was a strong aspirant for the K R Nagar assembly constituency, is now campaigning for Congress candidate Doddaswamy Gowda for the same seat.
Srikanth Das, brother of Karnataka Medical Education Minister S Ramdas, has also hit the campaign trail.
B S Yeddyurappa, the leader of the Karnataka Janatha Party, is also taking the assistance of his son B Y Raghavendra for his campaign in Shimoga.
Raghavendra was recently suspended as the BJP MP for anti-party activities.
JD-S leader H D Kumaraswamy, a former chief minister who is contesting from Ramanagar, will also campaign extensively for his wife Anitha from Channapatana, and vice versa.
Image: KPCC chief G Parameshwara (2nd, right) and senior party leader Siddaramaiah (2nd, left) campaigning in the poll-bound state.
Photograph Courtesy: KPCC website