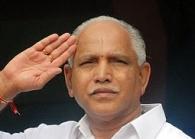 Former Bharatiya Janata Party leader B S Yeddyurappa's ominous warnings about destroying the party in the state assembly election were not merely empty threats.
On poll verdict day, not only is the ruling party lagging behind the Congress, which is leading by a considerable margin, it may not even be able to flex its muscles as the main opposition party in the next five years. The Janata Dal – Secular is likely to beat it to that position.
The top BJP leadership had forced Yeddyurappa to resign from the chief minister's post after massive charges pf corruption surfaced against him. Yeddyurappa, considered the party's strongest leader in south India, had walked out of the BJP in a huff.
Yeddyurappa's Karnataka Janata Party has split the BJP's share of votes in as many as 70 constituencies, all of which were considered strongholds of the saffron party.
In Shimoga, the KJP has virtually wiped out the BJP and pushed its candidate K S Eshwarappa to the third slot.
The KJP has also managed to split the votes of BJP candidate Suresh Kumar in Rajajinagar constituency.
In Mangalore, where BJP's star campaigner Narendra Modi tried to woo the voters, the KJP bungled the party's chance once again.
Rashtriya Swayamsevak Sangh leader Prabhakar Bhat Kalladka, an influential leader in the region who was considered close to Yeddyurappa, also maintained a low-profile during the campaign.
Even in Puttur, the KJP candidate ate into the vote share of the BJP, propelling the Congress candidate to victory.
The KJP has also dented the massive vote bank of the Lingayat community in the state. The powerful Lingayats have always voted for the BJP and their favourite leader Yeddyurappa.
This time, the KJP ate into the vote share of the BJP, as the Lingayats have shifted loyalties in various regions including Tumkur, Shimoga and a large part of northern Karnataka.
The KJP may not win too many seats -- current counting trend indicates that the party is leading in 11 seats -- but it is clear that Yeddyurappa has got his pound of flesh.