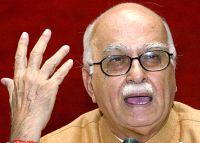 Hitting out at L K Advani, Karnataka Janatha Paksha spokesperson Dhananjay Kumar has alleged that the senior Bharatiya Janata Party leader and others had received funds from former chief minister B S Yeddyurappa.
Addressing a press conference at Bangalore on Monday, Kumar said that these leaders including Advani took money from Yeddyurappa assuring him that they would let him continue as chief minister of Karnataka.
He said that national leaders had constantly threatened Yeddyurappa of taking him down as CM. They said that his name figures in the illegal mining report and it was in this pretext that several national leaders including Advani took 'several 100 crores of money'.
When asked to substantiate his claim, Kumar said that he would release documents at an appropriate time.
Image: L K Advani