The opposition Bharatiya Janata Party and the Janata Dal-Secular in Karnataka on Friday mounted a scathing attack on the Congress government for its alleged dilly-dallying attitude towards fulfilling the five guarantees, which it had promised ahead of the recently concluded state assembly elections.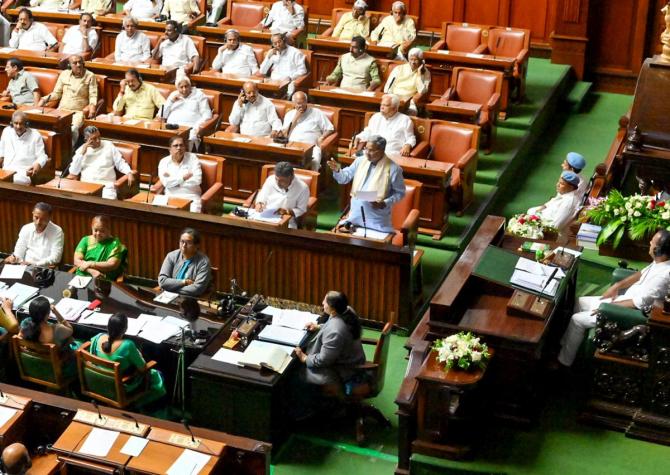 According to Congress, the five schemes are 200 units of free power to all households (Gruha Jyoti), Rs 2,000 monthly assistance to the woman head of every family (Gruha Lakshmi), 10 kg of rice free to every member of a BPL household (Anna Bhagya), Rs 3,000 every month for unemployed graduate youth and Rs 1,500 for unemployed diploma holders (both in the age group of 18-25) for two years (YuvaNidhi), and free travel for women in public transport buses (Shakti).
The Congress had assured that once it came to power with majority, these schemes will be implemented in the maiden cabinet meeting.
The party registered a thumping majority by winning 135 out of 224 seats in the assembly.
Soon after swearing in, Chief Minister Siddaramaiah told media that the cabinet has given its in principle approval.
We will get details and discuss... financial implications will be looked into and then we will do it for sure. Whatever the financial implications may be, we will fulfill these five guarantee schemes after the next cabinet meeting, he had said.
Addressing reporters, JD-S leader H D Kumaraswamy alleged that the Congress misled voters and came to power. He also vowed not to sit idle.
"I am calling upon those families, which use 200 units of power. If your power consumption exceeds 200 units, then you pay, I won't stop you from doing so. They (Congress) have promised it (200 units free power)," Kumaraswamy said.
The former CM also appealed to the women travelling by government buses not to pay a single rupee because the grand old party has promised free bus passes.
According to him, the free bus ride to women across Karnataka will cost the state exchequer Rs 24,000 crore.
Lambasting Congress, Kumaraswamy said, "Why did you not tell the conditions while announcing these guarantee schemes? That time you shouted free' and guaranteed'. Now nothing is free and guaranteed. Now you are talking about guidelines."
Senior Bharatiya Janata Party leader R Ashoka said Siddaramaiah, Sonia Gandhi, Rahul Gandhi and Priyanka Gandhi Vadra announced one guarantee each during their election rallies.
They had promised that within 24 hours of the formation of government in the first cabinet only, these guarantees will come into effect, the former Deputy CM told the media.
More than 240 hours have lapsed since the government formation, the Congress leaders are still looking at the pros and cons.
Flaying Chief Minister Siddaramaiah, the BJP MLA asked, "You tabled 13 budgets. Don't you have the knowledge about the number of BPL families, women and youth in the state, and the electricity requirement to fulfill your promise?"
© Copyright 2023 PTI. All rights reserved. Republication or redistribution of PTI content, including by framing or similar means, is expressly prohibited without the prior written consent.