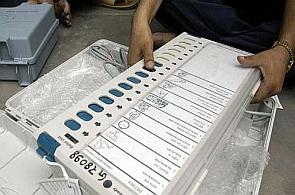 There are lots of predictions ahead of the Karnataka elections as to who the winner on May 5 would be, says Vicky Nanjappa.
A recent survey by a television channel gave the Congress a thumping majority. It also went on to state that the Bharatiya Janata Party would get just 35 to 40 seats.
The Congress welcomed the survey, but there is a talk in political and journalistic circles that the survey could be wrong. The last time the same channel had given the Congress majority while the BJP went on to sweep the elections.
However, this time the scenario is pretty different and the BJP finds itself in troubled waters. In this scenario it would be interesting to observe the various internal surveys which the parties in Karnataka have conducted.
The Congress has two surveys. While the one done by the Congress predicts 120 seats for the party, there is another survey which is conducted by former Karnataka Chief Minister S M Krishna loyalists. This survey indicates a hung assembly and states that the Congress may end up winning just 60 to 70 seats. This was in fact, brought to Krishna's notice during a press event. "
"The electorate is very selective -- let us wait for May 8," he said.
The BJP's internal survey shows the Congress winning 95 seats and the BJP 81. The Karnataka Janata Paksha is predicted to get 8 seats each while the Janata Dal-Secular will get 27 and the BSR Congress 5.
The BJP says that the recent survey is a more realistic picture.
"At the start of the elections, we had conducted a survey and it had given the Congress 105 seats and the BJP 70. However, we feel that we have improved over the past couple of days," says a BJP source.
The JD-S on the other hand has not conducted any formal survey, but is confident of winning over 60 seats. Several thinkers in the party have drawn out a survey based on the recent local body elections and feel that the party could get over 60 seats. They say that the Congress could get 80 seats and the BJP 70. The rest would be shared by the KJP, Independents and the BSR Congress party.
Karnataka has had a reputation of proving every survey wrong. Many poll pundits say that it is a tough job predicting the Karnataka elections. The voter is very unpredictable and things tend to change every second day. The best thing would be to wait for May 8, when the results are announced.