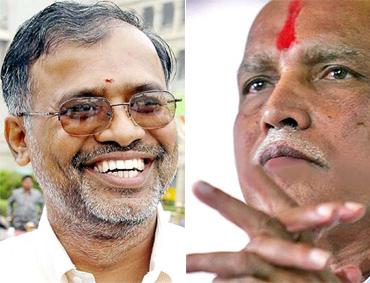 The contest at Bangalore's Rajajinagar constituency is perceived to be Yeddyurappa's revenge battle against Suresh Kumar, who he feels played a major role in paving the way for his ouster as chief minister in 2011, reports Vicky Nanjappa.
One of the most interesting battles to be fought in the upcoming Karnataka assembly elections would be at the Rajajinagar constituency in Bangalore. The constituency will witness a direct fight between two big wigs -- Suresh Kumar of the ruling Bharatiya Janata Party and Shobha Karandlage of Karnataka Janata Party, a newly founded party by former chief minister B S Yeddyurappa.
The contest is perceived to be Yeddyurappa's revenge battle and the influential Lingayat leader has fielded his most trusted lieutenant for the same.
Defeating two persons -- K S Eshwarappa (state BJP chief) and Suresh Kumar (Karnataka law minister) -- is of primary importance for Yeddyurrapa, as he feels that these two persons were responsible for his ouster as chief minister in 2011.
The Rajajinagar constituency, which is held by Kumar, will witness a keenly contested battle this time. There is revenge involved in it and also a major caste factor that would be in play.
Going by the prospects of both the candidates, at the moment it appears to be an uphill task for the BJP leader. Although Kumar enjoys a great stature among many in Bangalore, there is an anti-incumbency factor against him and also there are complaints that he has not done much for the constituency.
Suresh Kumar had a very clean image until he was dragged into a land scam. However, he was cleared of the charges later.
While these are some of the factors, the bigger issues ahead for Suresh Kumar is that he faces a very strong candidate from the KJP. His job has been made even tougher as the Congress too has decided to favour the KJP and fielded a weak Manjula Naidu.
The caste calculations too do not work in favour of Suresh Kumar this time. There are 30,000 Lingayats and an equal number of Vokkaligas in the constituency. Suresh Kumar will depend very heavily on to the 12,000 odd Brahmin votes as he hails from that community.
Yeddyurappa felt that he could capture both the Lingayat and Vokkaliga votes by fielding Shobha who belongs to the latter community. Yeddyurappa is hopeful of pulling the Lingayat vote bank while he feels that the Vokkaligas would vote in favour Shobha.
It is no secret that this is nothing but a revenge battle for Yeddyurappa who sees Suresh Kumar as a co-conspirator in ousting him. Suresh Kumar is said to have made a push to oust Yeddyurappa as CM.
Later when Sadananda Gowda became the chief minister, it was Suresh Kumar who was his man Friday and this had irked Yeddyurappa as he was the one who made Gowda the CM.
Suresh Kumar too acknowledges the fact that fielding Shobha was nothing but a revenge ploy by Yeddyurappa.
"She has been fielded only to defeat me", he says.
The other issue that Suresh Kumar faces is that some of his trusted aides in the BJP have shifted sides. They identify more with Yeddyurappa and Shobha and believe that she would be a more assertive leader.
There were also demands by many in the BJP not to give a ticket to Kumar and he has been battling some sort of resistance in the party for some time now.
Moreover, if Shobha wins and the Congress comes to power, she would have a position in the government as there is a likelihood of a tie up.
The surprise is, however, the weak candidate that the Congress has floated. Manjula Naidu is the womens' wing president of the state unit of the party. She is neither a Lingayat nor a Vokkaliga and hence there is no caste factor that has been taken into account before fielding her.
Image: (Left) Suresh Kumar and B S Yeddyurappa