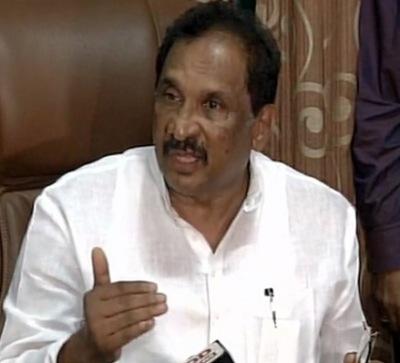 Bowing to mounting pressure, Karnataka Minister K J George on Monday resigned shortly after a court directed police to register a first information report against him and two top police officers in connection with alleged suicide of Deputy Superintendent of Police S P Ganapathy, which has kicked up a huge political storm in the state.
George's exit came within hours after a local court at Madikeri in Kodagu district gave the direction on a private criminal complaint filed by the deceased police officer M K
Ganapathy's son Nehal requesting it to direct the police to take up investigation against the minister and two officers for allegedly abetting his father's suicide.
"I have submitted my resignation...it is left to the chief minister (to accept or not)," George, Minister for Bengaluru development, said, adding, he had taken the step to pave the way for an impartial probe.
Asserting that his conscience was "clear", George said "... I have not harassed anybody...I will come out clean."
"Chief Minister Siddaramaiah said George had quit "voluntarily" and he had accepted the resignation. "Though there was no need for it, George has resigned voluntarily. I have accepted it...he has resigned on moral grounds," he said, emerging out of a cabinet meeting which was convened after the court directive gave a sudden new twist to the controversy that had put Congress in a tight corner.
The order by Additional Judicial Magistrate First Class Annapurneshwari came, as Chief Minister Siddaramaiah faced growing clamour to remove George, with the Opposition stalling proceedings of both the Houses of legislature, which were abruptly adjourned sine die today much before the July 30 schedule.
Ganapathy's wife Pavana and Nehal had approached the court, stating that the police had rejected the complaint lodged by them with the Kushalanagar police on July 10 against George and Indian Police Service officials A M Prasad and Pranab Mohanty.
In his complaint, Nehal had said his father had made a "dying declaration" naming George and the two officers and their acts amounted to "abetting the commission of suicide."
Appealing to the court to take cognisance of the offence punishable under Indian Penal Code section 306 read with Section 34, the complaint had also claimed that the accused were highly placed and influential persons who had prevailed upon police from taking action against them.
George said he would take a "legal remedy" in the case. Stepping up pressure after the court directive, Bharatiya Janata Party went on a "Raj Bhavan chalo" march requesting Governor Vajubhai Vala to direct the government to order a CBI probe and to drop George "in the interest of fairness and natural justice."
As news of George's resignation came, state BJP President B S Yeddyurappa said it had come after the court direction to file an FIR and added, "resignation is not important. An impartial probe is important."
"Along with George's resignation, a Central Bureau of Investigation probe is required. Our fight will continue," Yeddyurappa said after leading the march which came soon after the sudden end to the monsoon session of the state legislature.
Nehal's counsel M T Nanaiah said Investigating Officers would have to question George and the two police officers and take a call on whether to arrest them or not depending on their probe.
"Hope we will get justice. Let us see further what happens," Gapanathy's wife told reporters at Madikeri."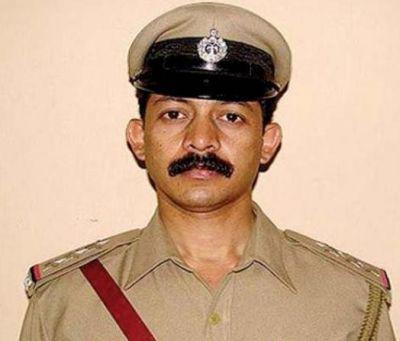 Ganapathy, 51, was found hanging from the ceiling fan in a room at a lodge in Madikeri on July 7, prior to which he gave an interview to a local TV channel, saying the minister and A M Prasad (IG-Intelligence) and Pranab Mohanty (IGP-Lokayukta) would be responsible "if anything happens to me."
Facing a combative Opposition, which has been stalling assembly proceedings since Monday last, the state government constituted a judicial commission headed by K N Keshavanarayana to inquire into the alleged suicide.
The commission would inquire into the "circumstances and events" leading to the "unnatural death" of Ganapathy. The case was being probed by the state criminal investigation department.
The opposition BJP and the Janata Dal-Secular had rejected the judicial probe, with the former insisting on a CBI inquiry.
A series of incidents involving alleged suicides by two DySps and resignation by another DySP has put the Siddaramaiah government in the line of fire of Opposition parties, which alleged that honest officials were being tormented.
Chikkamagalur DySP Handibag, named as accused in a kidnapping case, was found hanging in his father-in-law's house in Belagavi district on July 5.
Prior to this, Anupama Shenoy had resigned as DySP of Kudlagi in Ballari district unhappy over alleged interference by the then district in charge minister Parameshwara Naik, who has since been dropped in the recent major ministry rejig.
The Siddaramaiah government faced the first major storm in March last year when senior IAS official D K Ravi allegedly committed suicide under mysterious circumstances, with the public and Opposition outrage forcing the government to hand over the case to the CBI.
IMAGE: (Top) Karnataka Minister K J George. (Bottom) Deputy Superintendent of Police S P Ganapathy.