Malegaon blast accused and Bharatiya Janata Party's Bhopal Lok Sabha seat candidate Sadhvi Pragya Singh Thakur has claimed police officer Hemant Karkare died during the 26/11 Mumbai terror attacks as she "cursed" him for torturing her.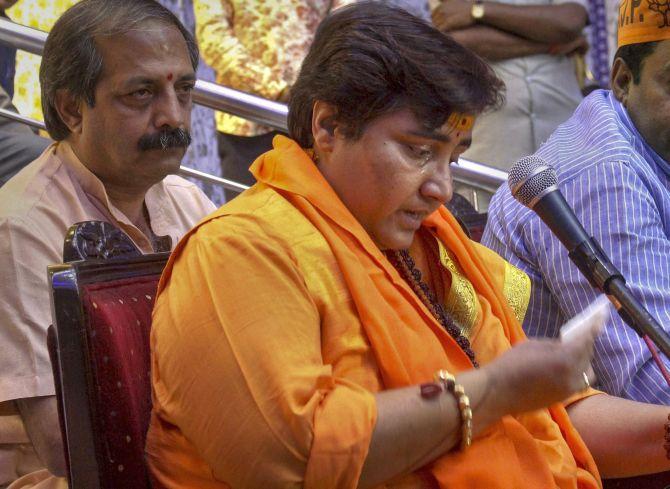 The BJP distanced itself from the controversial remarks, describing them as "personal", but the late IPS officer's colleagues berated her for insulting him.
The Congress said Prime Minister Narendra Modi must apologise for Pragya Thakur's remarks on Karkare and take action against her.
Addressing BJP workers in Bhopal on Thursday night, Pragya had also claimed that Karkare had "made up his mind" not to release her from custody.
"Hemant Karkare was called by the (blast) probe panel member to Mumbai. I was then in a Mumbai jail. The commission member told him that if he didn't have any proof against me, he should not unlawfully hold me in jail," she said.
"But he (Karkare) said he will do anything to bring the proof... Will do anything... will create it, bring it from here and there, but will not release Sadhvi," she said.
Karkare was killed along with two other senior police officers while fighting terrorists during the 26/11 attacks in Mumbai in November 2008.
The BJP on Wednesday fielded Sadhvi Pragya Singh Thakur from Bhopal seat, where she is set to have a direct contest with Congress heavyweight and former Madhya Pradesh chief minister Digvijay Singh.
"This was his (Karkare's) cunningness. It was treason. It was against religion. He used to ask all kinds of questions...Why did it happen? Why did that happen? I said, I don't know, God knows. So he asked whether he has to approach God to know all this. I told him, definitely if you want it, you must go. It will be difficult for you to believe it and it will take time. I told him he will be destroyed," she said.
"He tortured me and subjected me to harsh abuse which was unbearable. I told him he will be destroyed. A little over a month later 'sutak' (ritual observed after death of a family member) was going to start...just over a month later, he was
shot dead by terrorists and the inauspicious period ended," she said.
The IPS Association condemned the remarks against the late police officer.
"Ashok Chakra awardee late Sri Hemant Karkare, IPS made the supreme sacrifice fighting terrorists. Those of us in uniform condemn the insulting statement made by a candidate and demand that sacrifices of all our martyrs be respected," the association tweeted.
The BJP distanced itself from the controversial comment saying it was her personal view which she might have made "due to years of physical and mental torture".
"BJP considers him a martyr. This is Sadhvi Pragya's personal statement which she might have given because of the mental & physical torture she had faced," the party said.
The Congress demanded that Modi apologise to the country and take action against the BJP's Bhopal nominee for the remarks.
Congress chief spokesperson Randeep Surjewala said the remarks were an insult to every soldier who has sacrificed his life for the country while fighting terrorism.
Reacting to Pragya's statement, Digvijay Singh said, "Hemant Karkare was a dedicated officer. He laid down his life for the country and we should be proud of him. No one should comment on it."
All India Majlis-e-Ittehadul Muslimeen leader Asaduddin Owaisi slammed Pragya for her remarks.
"Hemant Karkare died fighting people not very different from yourself. He didnt die because a terror accused felt bad & cursed him. The man died fighting to protect our rights to vote & elect a government. How DARE BJP insult our martyrs like this?" he tweeted.
Delhi Chief Minister Arvind Kejriwal hit out at Pragya for her "disgraceful" comments.
"Disgraceful comments by BJP's Bhopal Lok Sabha candidate Pragya Thakur on 26/11 martyr Hemant Karkare ji need to be condemned in strongest terms. BJP is showing its true colours & it must be shown it's place now," he tweeted.
Madhya Pradesh Chief Electoral Office sources said a complaint has been received against Pragya Singh Thakur for her comments on Karkare. The matter is under enquiry, they
said.
Out on bail, Pragya, 48, has been discharged by a court on charges under the stringent Maharashtra Control of Organised Crime Act in the 2008 case, but is still facing trial under other criminal provisions, including the Unlawful Activities (Prevention) Act.