A martyr's daughter whose social media campaign against the Akhil Bharatiya Vidyarthi Parishad has gone viral, got caught up in a Twitter war on Monday with ex-cricketer Virender Sehwag and actor Randeep Hooda who called her a "political pawn".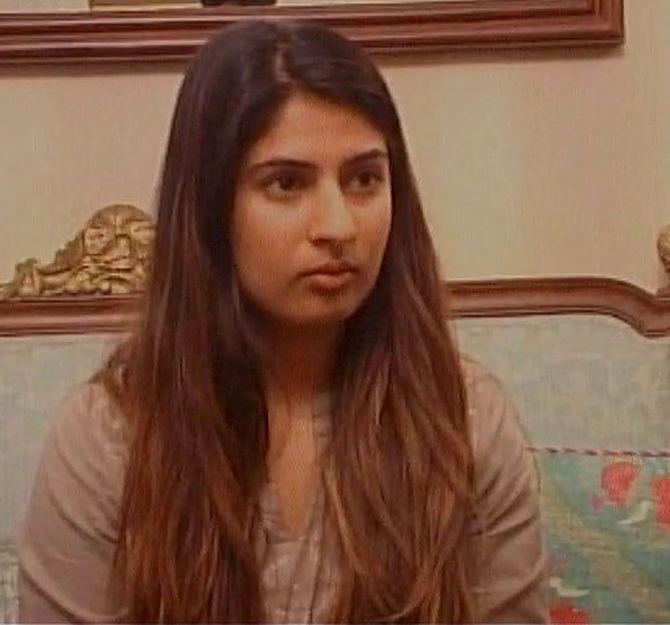 Gurmehar Kaur, 24, a Delhi University student, had started the campaign 'I am not afraid of ABVP', following the violence at Ramjas college. The campaign went viral and received a massive support from students of various universities.
Her campaign also drew controversial reactions from BJP leaders with Union minister Kiren Rijiju wondering who was 'polluting' her mind and another comparing her with wanted gangster Dawood Ibrahim.
The Delhi Commission for Women chief Swati Maliwal said the panel has received a complaint from Kaur and demanded security for her.
Maliwal, who termed the act "shameful", wrote to Police Commissioner Amulya Patnaik demanding that an FIR be registered against the "abusers" and security be provided to the girl and her family.
"She (Kaur) has been subjected to extreme abuse and rape threats online. Her complaint is self explanatory and contains relevant screenshots of rape threats and abuse as evidence.
"Considering the gravity of the situation and the threats received, it is recommended that the girl and her family be provided police protection and an FIR be immediately registered against the abusers," Maliwal said in the letter.
"It is highly unfortunate and shameful that a strong and independent young girl is being threatened and abused for taking a stand against hooligans. It is deeply perturbing that the threats appear to have silent support of some celebrities and leaders as well," she added.
In her complaint to the DCW, the student has said she has received "rape" threats on social media, allegedly from members of ABVP after she condemned "violence in name of nationalism" in the backdrop of the Ramjas incident.
Kaur, daughter of martyr Captain Mandeep Singh, had last week changed her Facebook profile picture holding a placard which read, "I am a student from Delhi University. I am not afraid of ABVP. I am not alone. Every student of India is with me. #StudentsAgainstABVP".
"The brutal attack on innocent students by ABVP is very disturbing and should be stopped. It was not an attack on protesters, but an attack on every notion of democracy that is held dear in every Indian's heart.
"It is an attack on ideals, morals, freedom and rights of every person born to this nation," she had said in a Facebook status.
The literature student's classmates and peers started sharing the post, prompting students from various universities across the country to change their profile pictures with the same placard, as the initiative went viral.
Responding to the critics, Kaur told PTI, "I'm really disappointed with the statements about my campaign especially from the 'famous' people who are questioning my nationalism. Two things I want to clarify is that they don't understand my idea of patriotism and this student campaign is not a political movement".
"It is about students and our campuses being safe from violent threats and it doesn't matter what organisation it comes from. Nobody can threaten rape to any one. No matter where he comes from and what his background is," she added.
Ramjas college had last week witnessed large-scale violence between members of the AISA and the ABVP. The genesis of the clash was an invite to JNU students Umar Khalid and Shehla Rashid to address a seminar on 'Culture of Protests' which was withdrawn by the college authorities following opposition by the ABVP.
Meanwhile, Pratap Simha, BJP MP from Mysuru, tweeted, "At least Dawood did not use the crutches of his father's name to justify his anti-national stand."
To mock her, Simha also posted a photograph showing Dawood with the message, 'I didn't kill people in 1993. Bombs killed them."
Rijiju also took to Twitter to take a dig at her.
"Who's polluting this young girl's mind? Strong armed forces prevent a war. India never attacked anyone but a weak India was always invaded," the minister of state for home affairs said.
Talking to reporters, he later said, "One should not say things which could demoralise the countrymen and the forces. Everybody has freedom but that does not mean that you raise slogans to weaken the country."
The Congress has denounced Rijiju and Simha for making controversial remarks, saying it is a perfect example of fascist mindset.
"You may not like what the person thinks but trolling, mindless threats... trolling emanating from people whom the prime minister follows. This is the worst form of state intimidation and this is not how democracies and democratic countries function.
"It is extremely unfortunate and highly reprehensible. Needs to be condemned in the strongest terms that an alternative point of view, if not liked or accepted, will be met by state intimidation and state-sponsored violence whether it is in the real or virtual world," Congress spokesperson Manish Tewari told reporters.
He was replying to a query about rape threats issued to Gurmehar Kaur after she condemned the ABVP for violence at Ramjas college.
Reacting to BJP Mysuru MP Pratap Simha's remarks against her, he said, "Such a gentleman certainly does not deserve to be in Parliament.
"Someone who has no respect for the families of martyrs... for the pain of a young lady who grew up without a father because her father laid down his life to protect the unity and integrity of the country... Such a gentleman definitely has no right to sit in the highest seat of Indian democracy."
Tewari said that unfortunately, this is an ethos which has become intrinsic to the BJP because it flows from the top.
"When you have the Prime Minister of India referring to the media as 'bazaaru', ministers referring journalists as 'presstitutes', front organisations of the RSS and BJP perpetrating violence then obviously their MPs also feel that possibly by insulting the family members of Kargil martyrs, they may also find a place in Modi's Cabinet," he said.
On Rijiju's remarks, Tewari said, "This is an example of fascist culture. She is just not anybody. She is the daughter of a Kargil martyr. Her family understands the meaning of sacrifice. If she condemns violence and you treat her like that... it is a perfect example of fascist mindset."
Coming out in defence of Gurmehar Kaur, whose campaign against the ABVP drew controversial reaction from the BJP leaders, the Congress tweeted, "When a woman thinks independently, patriarchal BJP thinks her mind is polluted. When a person 'bats' for peace, BJP responds with hate (sic)."
"We admire Gurmehar Kaur's courage to stand up against bullies & threats and to fight for Rights of her fellow students. Fascists always fall in the mud & remain there when brave Indians like Gurmehar Kaur chose to fight for peace and not give in to hate (sic)," it said.
Congress chief spokesperson Randeep Surjewala also took to Twitter and said, "Speaking the 'truth' is now 'pollution'. New normal by Modiji's ministers. No wonder the ABVP now stands for 'Aao Bhaiya Vidyarthee Peetein'."
"Rape threat to a 20-year old student and Kargil martyr's daughter is BJP-ABVP brand of 'nationalism'. Ghastly and horrific (sic)," he tweeted.