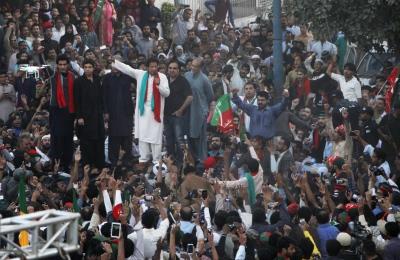 Pakistan's largest city and business hub was paralysed on Friday on a strike call given by Imran Khan's party as part of its countrywide protests against the Nawaz Sharif government for allegedly rigging last year's polls.
Pakistan Tehreek-e-Insaaf chief Khan claimed that the strike by his party in Karachi was a big success and vowed to continue the campaign to create a 'new Pakistan'.
The cricketer-turned-politician reached Karachi to a rousing welcome in the afternoon as the city remained paralysed due to the PTI's strike call addressed hundreds of charged up workers and supporters at the Nursery junction on the Shahrah-e-Faisal road leading to the airport.
The PTI announced the end of the shutdown after Imran ended his speech and headed for the airport. "Today the citizens of Karachi have supported us and the people of Lahore will also support us on December 15," Khan clad in a white shalwar kameez with the PTI flag draped around his neck said.
Markets, shops, educational institutions and petrol pumps remained closed in many parts of the metropolitan city since early morning and with sparse public and private transport on the roads the city wore a deserted look as PTI leaders, workers and supporters held protest sit-ins at around 38 points in the city blocking main arteries and roads.
At many of the points that included the upscale areas of Clifton and Defence the protest sit-ins were dominated by female workers and supporters of the party. The strike was enforced by the PTI as part of its ongoing protest against alleged rigging in the last general elections by the Pakistan Muslim League (Nawaz).
They was no major incident of violence reported from any part of the city although a small PTI rally going from Lyari to join the main rally in nursery was dispersed in panic after unknown miscreants threw a cracker in the crowd.
He said the PTI protests and sit-ins in different cities of Pakistan would continue until a judicial commission holds inquiry into the rigged election results. Political analysts credited the PTI's successful and largely peaceful strike to the late night announcement by the chief of the Mutthaida Qaumi Movement Altaf Hussain that he supported Khan's right to protest.
Traditionally the MQM has yielded massive street power in Karachi from where it is the single largest party in the National and provincial assembly of Sindh. The PTI call to shutdown Faisalabad earlier this week ended in violence after clashes between its workers and those of the PML N and the police.
Image: Imran Khan, cricketer-turned-politician and chairman of the Pakistan Tehreek-e-Insaf, gestures while speaks to his supporters during an anti-government rally in Karachi.Photograph: Protesters/Reuters, led by Khan, have been locked in a bitter stand-off with the government since mid-August. Photograph: Akhtar Soomro/Reuters