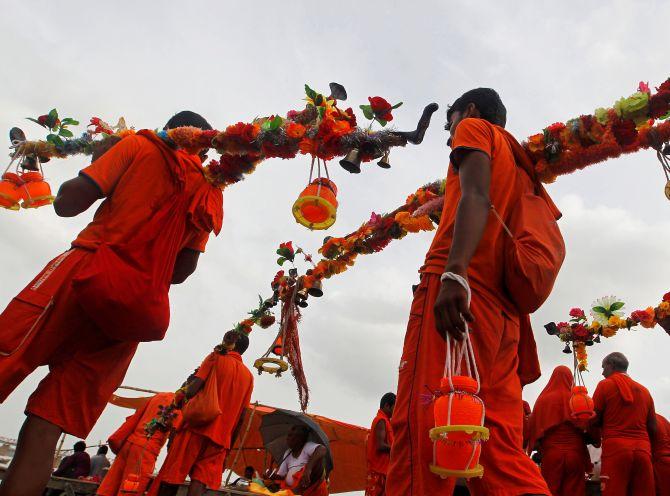 Tension prevailed when kanwar yatris clashed with members of the Muslim community in Fatehpur town of Sikar district in Rajasthan, police said on Monday.
Currently, Section 144 of Code of Criminal Procedure has been imposed in the town.
The conflict began when a kanwar yatris' procession was passing by a mosque on Sunday evening.
A group of Muslim youths demanded that the music be minimised, an official said.
A heated argument broke out between the two group and it soon turned into a physical confrontation.
Eight kanwariyas were injured and the police arrested three persons from the Muslim community, Sikar Superintendent of Police Pradeep Mohan Sharma said.
On Monday, right wing groups held a sit-in protest at Bhoothnath temple in Sikar, demanding more arrests.
The protestors pelted stones on police personnel.
Some of the right wing activists started shutting the shops in the market area.
The police resorted to cane charging, lobbing of tear gas shells and firing rubber bullets in the air to disperse the crowds and control the situation.
Section 144 of CrPC was imposed in the town.
Additional SP Dr Tejpal Singh said eight people in the kanwar yatra were injured in the clashes.