How a chilling 911 call from a bartender led to the arrest of Adam Purinton, the man who killed Srinivas Kuchibhotla.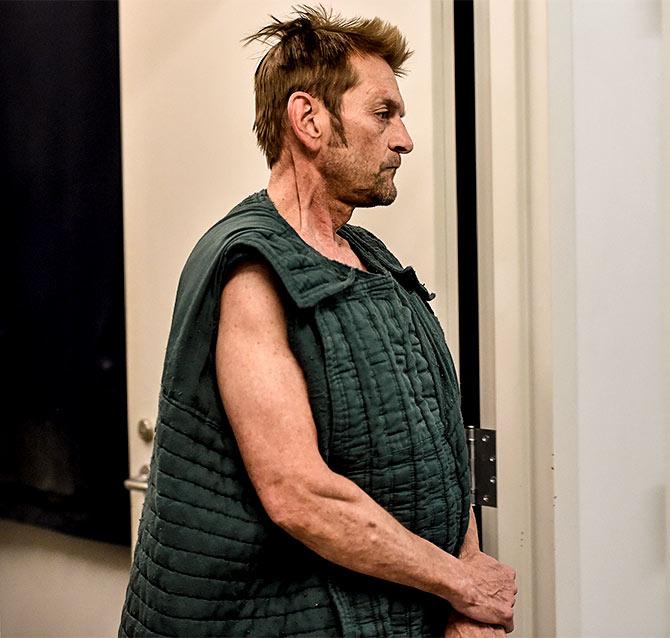 IMAGE: Kansas shooting accused

Adam Purinton appeared in court via video from jail in Olathe, Kansas, on February 27, 2017.

He has been assigned a "safety smock", which is given to inmates who might harm themselves. Photograph:

Jill Toyoshiba/Reuters

.
Adam Purinton, the man who killed Indian-American engineer Srinivas Kuchibhotla and injured Alok Madasani and Ian Grillot in a shooting in Olathe, Kansas, on February 22, would have probably evaded the police a lot longer had it not been for a 911 call from a bartender in Clinton, Missouri.
In the call, released by KSHB Kansas City, the caller identified herself as a bartender at Applebee's. She said:
"I had this guy come into the bar and he told me that he had done something really bad and he was on the run from the police, and he asked if he could stay with me and my husband and he wouldn't tell me what he did.
"I kept asking him. He said he would tell me if I agreed to let him stay with me.
"I finally got him to tell me and he said that he shot and killed two Iranian people in Olathe and I looked it up on the news and there was a shooting three hours ago… He's here, but he made me promise that I wouldn't call police."
The bartender also informed the police that there were people in the building and the cops should come in without sirens blaring. "I'm afraid he's going to freak out if he sees the cops come to the building," she said.
The man turned out to be Purinton and was arrested within 45 minutes of the 911 call.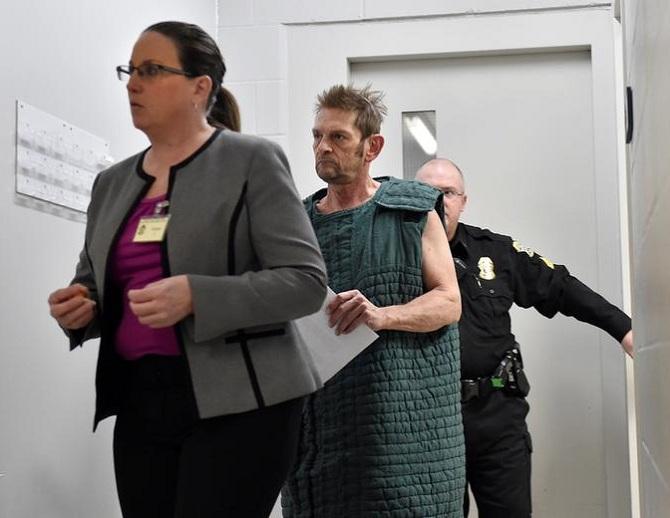 IMAGE:

Adam Purinton and his public defender Michelle R Durrett. Purinton is being held in the Johnson County Jail on a $2-million cash bond. Photograph: Jill Toyoshiba/Reuters.
Purinton, 51, a US Navy veteran, was taken back to Kansas after his arrest and charged on one count of first-degree murder and two counts of attempted first-degree murder.
According to witnesses, Purinton yelled "get out of my country" as he opened fire inside Austin's restaurant in Olathe on the night of February 22. He killed Kuchibhotla and wounded his colleague Madasani -- both engineers who held H-1B visas and worked at Garmin.
He also injured Ian Grillot, the American man who tried to stop his killing spree.
Purinton drove 70 miles to the Applebee's in Clinton, Missouri, after the shooting where he admitted to what he had done to the bartender.
The accused appeared in court for the first time on February 27.
Photos showed him wearing a "safety smock" during the appearance, which lasted less than two minutes.
A sheriff's department spokesman told the Kansas media that suspects are made to wear such safety smocks if something suggests that they might harm themselves. However, there was no clarification on what was the trigger for that concern in Purinton's case.
Purinton is currently being held in the Johnson County Jail on a $2-million cash bond.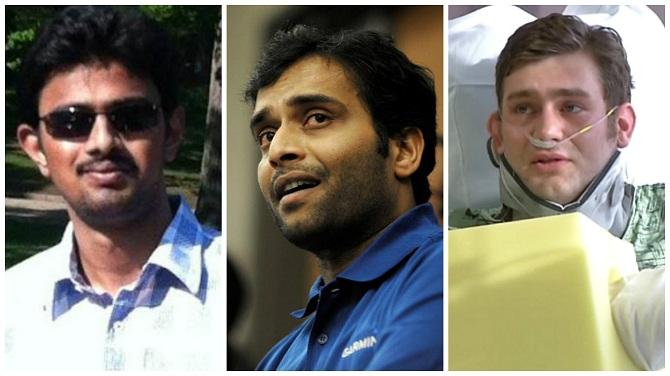 IMAGE: From left, Srinivas Kuchibhotla, who was killed, and Alok Madasani and Ian Grillot, who were injured in the Kansas shooting on February 22.

Steve Howe, Johnson County District Attorney, clarified in a tweet that the racial motivation behind the attack is not part of the case because Kansas "does not have hate crime statute-those charges have to be in fed court. If convicted in District Court as charged, Purinton faces Hard 50."
The FBI, which tracks hate crimes, is gathering evidence on this aspect, and according to the Press Trust of India, "If their agents can prove that Purinton's alleged actions constitute a hate crime, he could face federal charges that could potentially carry the death penalty."
FBI spokesman Bridget Patton, however, said they had no new information to release on this subject.
The racial nature of the attack, however, has continued to make people of colour and immigrant communities uneasy.
The White House spokesman Sean Spicer had initially it would be "absurd" to draw a co-relation between the attack and US President Donald Trump's Islamphobic rhetoric. But he did comment on it after multiple alleged hate crimes against the Jewish community, including the desecration of a Jewish cemetery, in the US.
Spicer said, "From our country's founding, we've been dedicated to protecting the freedom of our citizens' rights to worship. No one in America should feel afraid to follow the religion of their choice freely and openly. The President is dedicated to preserving the originating principle of our nation."
He added, "And while we're at it, I don't want to get ahead of law enforcement, but I was asked the other day about the story in Kansas, the shooting in Kansas. While the story is evolving, early reports out of Kansas are equally disturbing."
---
How did the Kansas shooting unfold?
Hear it from the American who took a bullet for two Indians