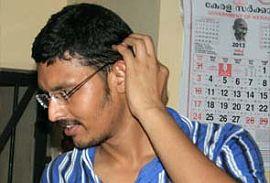 Nearly seven years after he jumped bail while serving a seven-year sentence for raping a German national in Rajasthan, absconder Bitti Mohanty from Odisha was on Saturday arrested by Kerala Police and remanded to judicial custody.
Son of former Odisha DGP B B Mohanty, Bitti had been working as a Probationary Officer in a public sector bank in Kannur for the last three years impersonating as "Raghav Raja" from Andhra Pradesh, police said.
Bitti was produced before the First Class Judicial Magistrate at nearby Payyannur and he remanded him to 14 days judicial custody.
He landed in trouble after employees of the bank branch at Pazhayangadi grew suspicious of the true identity of their colleague on seeing his photo among pictures of the accused in various sex crimes shown by television channels and floated on the internet in the wake of the Delhi gang rape incident.
Bitti was picked up from his local residence last week and revealed his true identity during questioning, sources said.

Police also corroborated their findings by interacting with their counterparts in Rajasthan, Andhra Pradesh and Odisha.
Kannur SP Rahul R Nair told PTI that Rajasthan police is on its way to Kannur as he was sentenced to seven years imprisonment in 2006 for raping the 26-year-old German woman at Alwar.
The FIR lodged in the local police station charged Bitti with cheating, impersonation and forgery.
After jumping bail in 2006, Bitti had obtained an MBA degree and managed to get into the bank as a probationary officer.
He pretended to be an Andhraite and during his stay also learnt to speak in Malayalam well, without giving a clue to local people or his colleagues that he is a convict.