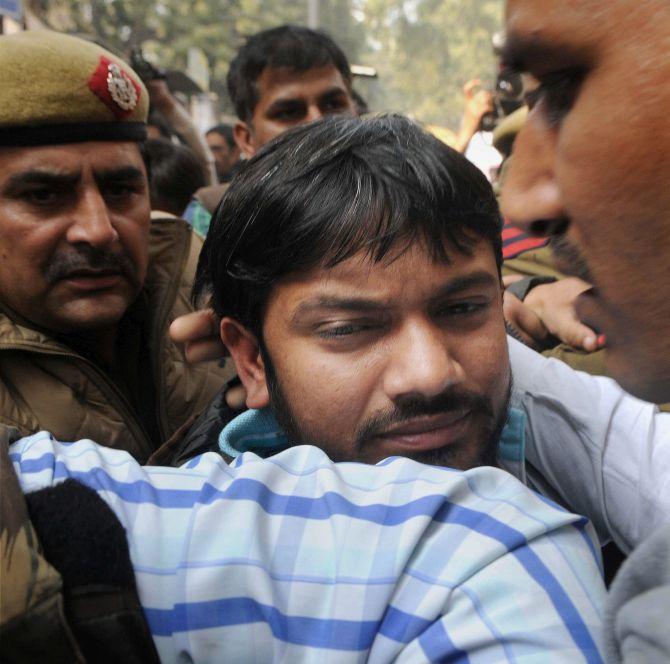 Jawaharlal Nehru University Students Union President Kanhaiya Kumar, arrested in a sedition case, says he is a victim of conspiracy and falsely implicated by 'fabricating' evidence.
The jailed students leader, who has moved the Delhi high court for bail, alleged that a doctored video, which seeks to superimpose utterances that may have been made elsewhere by others, was being circulated to falsely implicate him in the case.
His petition contended that the charge of sedition has not been made against him merely for raising slogans against government as that action was not accompanied by violence or incitement.
'It is alleged that the petitioner (Kanhaiya) raised slogans on the evening of February 9 at JNU. However, the petitioner strenuously denies that he raised any slogan that would fall within the mischief of section 124 A (sedition) of the Indian Penal Code.'
'The petitioner, however, submits that he is a victim of conspiracy where certain vested elements are seeking to fabricate evidence against him and circulate a doctored video which seeks to superimpose utterances that may have been made elsewhere by others, on him,' the bail plea, filed by Kanhaiya said.
The petition said he never raised any seditious slogans and no charge under section 124 A of the IPC is made out against him.
'The conspectus (a summary or overview of a subject) of circumstances shows that petitioner has never made any seditious utterances/slogans on February 9 and that utterances made by others are sought to be superimposed on the petitioner to falsely implicate him,' it said.
Kanhaiya also referred to Supreme Court judgments which state that section 124 A would be attracted only 'when the accused brings or attempts to bring hatred or contempt or incites or attempts to incite disaffection towards government established by law in India.'
'It is further held that raising some slogans or making a speech does not constitute any threat to the government, particularly, if it is not accompanied by any violence or incitement for violence...That even as per the first information report no seditious utterance has been attributed to the petitioner.'
'That post facto, there have been no incidents of violence as a consequence of any utterances (speeches or slogans) that the petitioner may have made. The JNU premises have remained calm and not a single incident of violence or any sort of disturbance has been reported..,' the plea said.
Kanhaiya also referred to the National Human Rights Commission report which castigated the Delhi police for dereliction of its duty and concluded that events which took place at the Patiala House court were a security lapse.