The autopsy report of Hindu Samaj Party founder Kamlesh Tiwari has stated that he was stabbed 15 times and shot once in his head.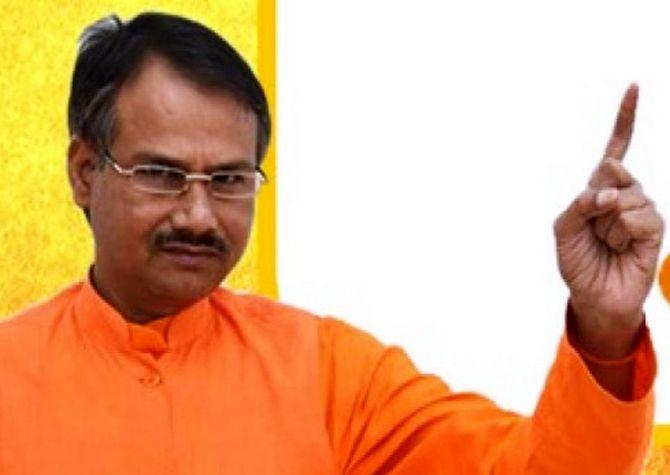 Two deep cut marks were found on his neck and the stabbing was centred between jaws and chest. The wounds were inflicted within 10 centimetres of one another, the report said.
A bullet was found on the back of Tiwari's skull while the postmortem was being conducted.
On October 18, Tiwari was murdered in Naka area of Lucknow. He later succumbed to his injuries.
Six persons, including three from Surat and one from Nagpur in Maharashtra, have already been taken into custody in connection with the murder case.
On Friday, in a joint operation, the UP police and Gujarat ATS had arrested three suspects in the case from Surat -- Maulana Mohsin Shaikh, Faizan and Rashid Pathan.
Meanwhile, a team of the Uttar Pradesh police landed in Surat on Tuesday to conduct further probe into the killing of Tiwari.
The Surat link came to light after the UP police found a box of sweets, bearing the logo of Dharti Sweets located in the Udhna area of the diamond city, from Tiwari's house, where he was gunned down by assailants.
Sources in the Surat police revealed a team of the UP police landed in the south Gujarat city and visited the sweet shop to get some more clues from CCTV footage.
The UP team also visited Limbayat and Navsari Bazar areas to question people who know the accused arrested from Surat, the sources said.
With inputs from PTI