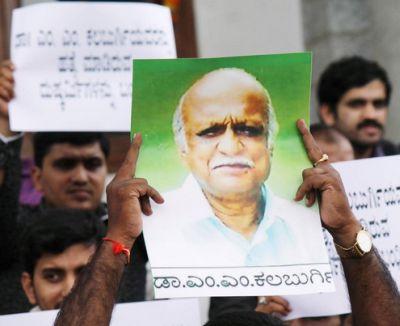 Slain author and rationalist M M Kalburgi's wife on Wednesday approached the Supreme Court seeking a probe by Special Investigation Team into the murder of her husband in 2015.
The apex court sought the response of probe agencies -- National Investigation Agency and the Central Bureau of Investigation -- and the governments of Maharashtra and Karnataka within six weeks on her allegation that no substantial investigation has been carried out so far in the murder case.
A bench comprising Chief Justice Dipak Misra and Justices A M Khanwilkar and D Y Chandrachud took note of the petition filed by Uma Devi Kalburgi, wife of the slain author, and issued notices to the NIA, CBI and the two state governments.
Kalburgi's wife, in her petition filed through advocate Krishna Kumar, alleged that there was common link between the murder of her husband and that of intellectual activists, Narendra Achyut Dabholkar and Govindrao Pansare, who too were assassinated in August 2013 and February 2015 respectively.
Dabholkar was shot at on August 20, 2013 in Pune while Pansare was killed in Kolhapur in Maharashtra on February 16, 2015.
Kalburgi's wife, in her plea, said that the investigation in Dabholkar and Pansare murder cases was in a "sorry state" and no progress has been made in bringing the killers to book.
The petition said that in 2016, the then Karnataka home minister had in a statement claimed that as per the forensic analysis of cartridges recovered from the three separate crime scenes, the three murders were linked.
It alleged that one of the weapons used in the murder of Pansare was used to kill Kalburgi and therefore coordination between Maharashtra police and Karnataka police, besides the CBI and the NIA, was required.
"Although sketches of suspects were released after four days of Kalburgi's murder and statement was issued by Karnataka government that conclusive evidence of nexus of murders of all three activists was found, there has been no progress in the investigation till date," the plea said.
Kalburgi, the former Vice-Chancellor of Hampi University and a well-known scholar and epigraphist, was shot dead in daylight at his residence in Kalyan Nagar in Dharwad, Karnataka, on August 30, 2015. He was 77 years old.
Kalburgi was a Sahitya Akademi award-winning writer of old Kannada literature. He was born in Yaragal village in Vijayapura district of north Karnataka in 1938.