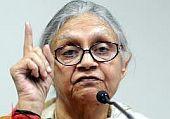 Keeping up her offensive against Delhi Police, Chief Minister Sheila Dikshit on Wednesday said she was "glad" that Justice J S Verma Committee report had vindicated her stand on conduct of the force in the aftermath of the brutal gangrape incident.
Asked about the committee coming down heavily on Union Home Secretary R K Singh for praising Delhi Police Commissioner after the December 16 incident instead of coming out with an apology, Dikshit said she was happy that the very eminent committee made observations similar to hers.
"I am glad. I have said it earlier this was no way of responding to such a serious situation by just saying that we have done a wonderful job and three cops have been suspended and that the rapists have been caught within eight hours or seven hours of the incident. We were all very disappointed.
"What I said came from my heart because the issue was not how much time it took to get to the rapists but the issue is why such a rape took place and why nobody was there where the rape was taking place. I am happy that the Verma Committee report has the same observation what we felt that time," she said.
Dikshit, complimenting the report of the panel, said her comments about law and order situation and police response in the wake of the December 16 gang rape of the 23-year-old had come from her heart as she was deeply shattered. The chief minister had demanded resignation of the Police Commissioner Neeraj Kumar in the wake of the brutal gang rape.
When referred to Committee's adverse comments against police over handling the protests at Raisina Hills and India Gate, Dikshit said the panel's observation was similar to that of civil society and right thinking people.

"It is an observation of a very eminent committee. The civil society has been feeling exactly the same way. The committee in its report reflected the emotions of the people who are going through a rough time," Dikshit, who had slammed police for its crackdown on protesters, said.